They got no talent according to the bullying jury of X factor but they will win one of the world's famous talent competitions. If you see the fearless twins perform, you can't really blame the sour-souled judges for being so critical - harsh criticsm that appears to make no dent in the young brothers' good spirits. However, despite it all, not only will they win the competition, they are likely to get a juicy record deal after the program is over. Apparently you can suck and still make it.
I Have Zero Interest in Pickup

After all these years the more I talk about pickup, the more I lose interest in the topic. I don't do pickup anymore. I got zero openers, no tactics to speak of, no general strategy, no phone text tips to give you, no pull grand plan or whatever. No attraction switches, buying temperature spikes, or rapport to build. I got nothing.
I also have no interest in teaching it to guys.
I found the more I stay away from the topic of pickup the better. I forbid pickup language in my programs because I am repulsed by it. I have a general dislike of talking of pickup for the sake of talking about something.
There is a general sense of dislike when you talk about pickup. The mood goes down, people turn logical, and black holes in the form of "sticking points" start to show their ugly head.
Maybe it is a projection of mine. I used to be all about that crap. That's all I would talk about. As years went by, I learned to hate this jargon crap. All it did was put me in my head.
What's the Game Today?
I think Jeffy said it is a "whoosh!" or something along those lines. I tend to agree with that type of talk devoid of anything logical.
I also think it is about the killing, subduing and managing of fear. Fear to do all the things you don't dare to do today or don't allow yourself to do. It has nothing to do with "game". There is no safe way of doing those things, no matter how much pickup theory you read. There is no way to tip-toe around rejection. It has to be dealt with. Trying to learn the game "safely" is as useless as trying to learn to swim without getting wet. A contradiction in itself.
"Tell Them, Boss"
You think you are weird - walk up to the hottest girl in the club and tell her "I want you to know that girls think I am weird". You think you can't get girls - walk up to the hottest group in the club and tell them "Guys, I don't think I can get a girl. I am so weird". Make a pause after you say that. Breathe in the fear.
The Onion Theory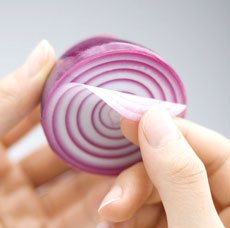 Many layers of fear are peeled over a weekend program. Still there is much work to be done after program in terms of skinning, digging and consistent destruction of fear. These days I sit with guys for over an hour and discuss a game plan for the next 3 months where we agree on goals and levels of commitment, etc.
These layers have been built over the years to protect yourself from rejection, fear of disapproval, failure, etc. These layers need to be removed for the true self to come through. Your most confident and comfortable self. Being content under your own skin. No need for add-ons. We all have that core. We all go through the peeling process to reach it.
The Ugly Old Onion
Let's see this poem I found randomly in the net.

Poem: The Onion

I was an onion before Christ set me free.
Layers upon layers of iniquity.
An ugly old onion whose fragrance was strong;
That my Jesus bought and loved all along.

Unknown to me what He was going to do.
Of what He was planning, I had not a clue.
Pulling each layer off one by one.
In order to make me more like Jesus the Son.

Not really. I disagree.
"An ugly old onion": this is how most guys look at themselves. They figure they don't have any attractive qualities that a female would like. Au contraire! Pardon my French.
Talking about strong fragrance, I ordered a BC student to open groups by talking about his armpit sweat which by the way was a cause of concern for him. He found out plenty of hot girls told him they have similar concerns about their bodily functions. They stroke conversations about stinking and they found common ground.
Nice. Hot women are human beings too: they smell, shit, fart and feel awkward too in social situations.
Ready To Master Your Dating Life?