THE

FORUMS

Posted

February 15th, 2013 at 4:44 AM
Respected Member
Join Date: 02/20/2009 | Posts: 527
Out here in LA, one of the Mecca's of fashion, I see some of the best dressed people in the world along with some of the worst. Fashion trends like Affliction, Ed Hardy, deep V-neck tshirts, etc. are fashionable until the select few that wear it become the majority.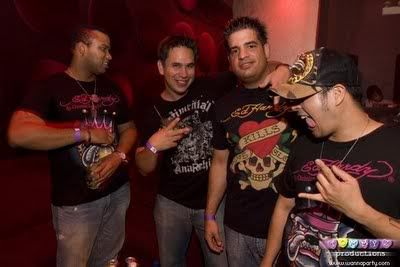 Unless you're rich and have the disposable income to keep up with monthly fashion trends, you've probably had a hard time staying fashionable so heres the quick guide to staying fashionable
1. Go Brandless:
Limit the clothing you purchase to everything thats unbranded. Nothing you wear should have a brand imprinted for everyone to see. Being branded will put you in a category that other people that wear it are. If you really must, keep one or two brands that you really like. I like Nike, but i wont buy a Nike shirt with a giant swoosh imprinted making me look like a walking billboard.
This
NOT

2. Wear Primary Solid Colors :
To add on to brandless clothing, I always keep a shirt the same color.
The only time i stray from this is adding color to the lining or accent piece on the clothing as such:
Stay away from bright colors like:
I will however say that sometimes bright colors in the spring or summertime are great standout pieces for Layering
3. Layering-
When you look at most move stars or global icons, they always look like they have a unique sense of style because they are layering. This is were you individualize yourself from others by adding multiple layers of clothing.
In the fall/winter you would do it like this:
:
In the spring/summertime, you'd layer excessories like Johnny Depp:
He wears multiple necklessas, multiple bracelets, some rings as well.
If you dont like wearing jewlery like myself you can keep it really simple with a watch, an understated necklace, and maybe a hat/glasses:
4. Wearing clothes that FIt:
Dont sag your jeans, wear shirts that fit. Sagging jeans may work in the US, but anywhere else in the world you look homeless. Plus who wants to walk around pulling their pants up every 20 seconds. When you wear baggy shirts everything just looks off. the seam of the shirt should stop at the edn of your sholder. If the Shoulder seam isnt pointing up but instead to the side, then your shirt is too big. Your pants should, at longest, rest an inch above the heel of your shoe.
Wrong Way:
Right way:

5. Jeans

This needs a category on its own. Once again buy jeans that are one color through, and arent pre-distressed, I prefer Levi's. There are two types of normal jeans.
One type is pre-washed, which will hold their look for a long time, without conforming to your body:
The other is Raw Denim. Raw denim is meant to be worn for half a year without washing, so that the jeans take on a unqiue character of their own, which will only fit YOU. Every crevice, every tear, every fold will fit your body and your body only. There is even a shrink-to-fit process that one must go through to ensure the perfect pair is going to fit you and you only. These will be your favorite jeans that you never want to throw away.
(NEVER PUT YOUR JEANS IN A DRYER)
I'd suggest purchasing a Pair of Levi's for $40:
http://us.levi.com/family/index.jsp?categoryId=3194290&cp=3146842.314685...
Here is a great guide for how to make your own perfect pair of Raw Denim Jeans from any company:
http://thighsbiggerthanyourhead.blogspot.com/2010/12/how-to-shrink-to-fi...
The End result will look like this:
Start Finish

6. Plaid's, Stripes, and patterns:
This is probably the hardest part of keeping with style. Every warm/cold seasonn is an introduction of new Plaid, stripes, and other patterns. So that shirt you bought 6 months ago is already out of style. There are a few shirts with patterns that may stay in style for a while(I have 3 or 4 shirts that i've had for years) but until you develop a style of your own, try and not to keep a new patterned shirt for over a year.
7.Match your accessories to your belt and shoes:
If you have on brown shoes, wear a brown belt and match your accessorries to that color as well. Same thing with Black. DO NOT MIX BOTH COLORS. Designers rarely combo black and brown, and you should just stay away. White socks should only be worn with white sneakers, I dont even own a pair.
8. Shoes: K.I.S.S(keep it simple stupid)

Buy yourself a nice pair of leather black and brown shoes and boots. Boots for the fall/winter(sometimes summer) and dress shoes for the spring/summer. Quality over quantity. Spend some decent cash and you'll have a pair that will last you years(if you take care of them). $150-250 for a pair. Keep it simple, dont buy shoes that have alot of accent pieces, and trims. Dress shoes should not look distressed and resoling a shoe will cost you less than buying a new pair.
Not These:
These:
I also own a few pair of simple Converse sneakers that i use for day to day occasions, but most canvas sneakers will do.
9. Dont wear white pants unless its summer.
In conculsion, the simple clothes= universal style that will last you for a lifetime. You can buy everything in any store. Why pay $120 for a plain gucci shirt, when you can buy the same shirt at any store and pay $15. On the otherhand, the better the quality the longer it will last, so spend a little more on a plain Calvin Klein tshirt over a $10 3pack at walmart.
Now go get dressed.