THE

FORUMS

January 20th, 2019
POF Convo with 23 Year Old Cute Blonde (Pic Inside)
Posted
January 21st, 2011 at 2:21 PM
Trusted Member
Join Date: 12/02/2006 | Posts: 1268
Found this cute 23 year old from Cali here in the Copenhagen area. The one in the orange dress.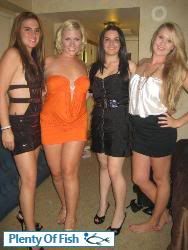 Messages ensue. Nothing too flashy. It works just being normal and expressing yourself.




Title: Welcome to CPH - It's one tough 'hood


I enjoyed your leopard background very much. I come from the
foreign land of Kazakstahn where beer pong is considered a
religion. I heard our countries have this in common.

You are the first guy in Denmark to actually send me a message cuz u read my profile and realize i am here and not in california hahah. beer pong is definitely considered a religion. i am working to convert the Danish but it isnt going so well. maybe you can help? ;)

1 Word: xxx Bar 2nd Word: Professional Beer Pong Tables. ;)

Shoot me a text with your battleplan - We'll brainstorm over
drinks. I know peeps around the Universities. A good friend of mine
is from SoCal and taught me the tricks to the trade. My # Fuck-Off-Jerk-Offs

On Text:

Hey its xxx (frm plentyoffish). Siting in class,jus got ur msg. The only prob w the beer pong tables at xxx Bar is that no danes actualy go there haha. I stil have a battleplan tho;)
Hey. Duck (used my real name), a pleasure. ; ) At work on 3 hrs of sleep. The sun is killin me! How's about this - Let's check it out. That place is cheap and hence we can afford a tournament.
Haha ur name is duck? Really? Lol. Sun is awesme,its way better then the weather here previously. I jus had a hour danish class about the weather haha. I thnk a beer pong tournament at xxx bar sounds awesme haha. alot of americans frm my school go thre so be prepared to lose;)
Yep, it's Italian. I'm from Bosnia originally - Unfortunately not a Jersey Guido. : ) Grew up in DK. Bet you got a cute accent. Danish is HARD! What school you go to..
Hahah my danish accent is mre non-understandable than cute lol. I go to xxx for study abroad. 700 american students taking classes together. Kinda silly actualy cuz its so hard to meet danes haha. Do u go to school or jus work?
Yea, seen you guys around. Both. Study at xxx. Got my hands full showing our own exchange students around. Fun though. Going to xxx tonight.. What are you guys uo to - Swing by if you can pass security with presentable cleavage.
Oh xxx. The international bar scene is always the same hahah. My skool has sme silly welcme party at xxx2 tnite but its open bar so il proly start there and then leave america and go bk into the danish world once im drunk hahah.maybe il stop by. Living in egmont has made me realize how annoying americans are haha. Do u have facebook? Add me im the only xxxx xxx:)



At work now so replying afterwards to meet up some time tonight for food. Stay tuned..




__________________
Brad '09 BC Alumni ✘ Alexander 3x BC Assistant ✘ Former RSD Intern ✘ Copenhagen, Denmark ✘ SWAG