THE

FORUMS

Posted

October 16th, 2010 at 10:15 AM
Respected Member
Join Date: 04/01/2007 | Posts: 311
This is most probably one of the more inglorious LRs to appear on this forum, and I debated whether to bother writing it up. But there's something a bit special about it. If you read to the end, you will see how long a drought I just got through, and you'll never again feel bad about going without sex for any length of time.
Here goes..
I like tequila, and the picture below is a $60 bottle of really nice tequila that I bought for myself.
The idea was that I would crack it open when my drought came to an end. So it sat on my kitchen bench for just under a year. It was there as a reminder to keep my goal in mind.
This morning, this is what it looked like: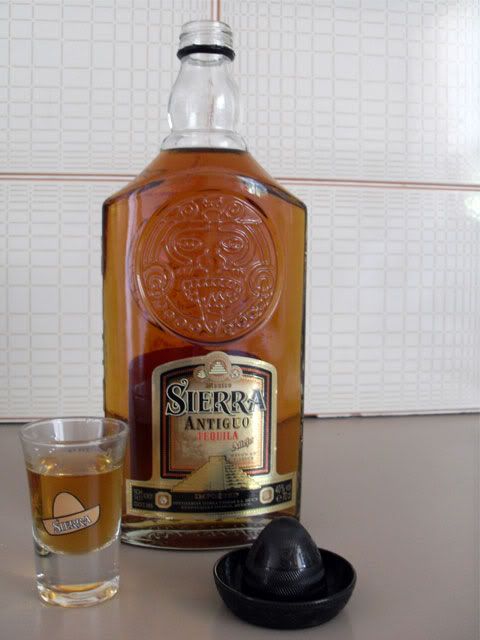 So how it went down...
I've done a shit-load of work (not so much in the last 6 months) on the whole getting women thing, and although I'm a hell of a lot more centered, experienced and balanced, the results haven't been there. I always hit walls at some part of the process. The last few dates, I've done pretty well with escalating and that is now pretty much progammed into me. But I have psychological barriers that seem to get in the way.
Logically I know these barriers are mental constructs, and pretty much ego defense mechanisms. As a result I've lately developed a crap attitude towards social interaction, girls and people who are more successful than me.
I finally realised what a lot of people have been trying to tell me. If you're still kind of have a long way to climb, you just have to start climbing and stop wishing you were already at the top. A wise man (Jubba) said to me once:
"sometimes you have to slay some dragons before you can rescue a princess"
So I decided to take my ego out of the equation and just try to close anything with a vagina that wasn't totally hideous. The shit I need to sort out has to be faced sooner or later. If that means closing a dragon so I could work towards hotter girls - then bring it on.
As it turns out, a dragon turned up through an online dating site. She wasn't incredible ugly, But probably the least attractive girl I've been involved with. Kinda chubby. Cool enough personality. Think about the fugly friend you have to be nice to when trying to get her hot girl buddy. That's her.
Originally met on a Tuesday night and could have closed her then. After a couple of drinks, and conversation she said,
"so, what now?"
My ego took over and I said,
"Umm, I better go, might catch up later in the week".
All the usual bullshit thoughts about her not being hot enough etc......
Afterwards I was pissed at myself. I resolved that I had to start taking this process all the way with somebody. Take a couple for the team. And this girl was DTF, but I would have to lead it.
So I met up again on Friday night at a bar. Had a drink and then I said
"so... afterparty at your place?"
"ok"
It was that easy, she obviously doesn't get hit onto all that often. it was always on, I just had to make the decision to escalate it.
On the way she asked
"What are you're expectations?"
I replied
"I'm pretty casual about this - you cool with that?"
"yeah sure
"
Get to her place, get some drinks. I start escalating hard, but she want to slow down and take it more steady. So we end up having like 2 hours foreplay whilst half watching Bruce Willis save the world from a big fucking comet or asteroid or whatever.
Go upstairs and she insists on the light being out - she knows she's not hot and is a bit self concious. To be honest, when it's pitch black and you're both naked, even though she was a bit chubby, it was still really nice. She really liked my body (thanks to all those squats and intelligent diet), but what do you say to girl who compliments you on your body when you can't compliment back without being an obvious bullshit artist?
Her:
"You have a great body"
Me:
" Thanks....You feel great.....and you smell really nice"
Didn't know what else to say.
Had major issues with rubbers. Has happened before. Couldn't feel a fucking thing. My dick was rock hard from almost the time we started foreplay right up til I put the rubber on - then it became Mr Droopy. Nerves didn't help. Didn't even get inside her that night, but tried again in the morning and managed to pound away for a little while.
Once, I was on top of her with a raging boner and was tempted to just slip it in, knowing the wetness and warmth would help, but I decided it was not worth the risk. So instead of that we did lots of finger banging and hand-job action, but neither of us managed to finish.
So what's so special about this LR?
This is the second woman I have slept with. The first was a girl I saw casually for a few months when I was 21.....
....in 1993!
Yup - 17 year drought broken.
17 fucking years!
When I last got laid, Bill Clinton had just started his first term as US President, and Pearl Jam were the coolest band on the planet.
But I'm ok with it, I mean, it's really sad it had to take this long, but you have to accept where you are and progress from there.
So if you're ever feeling frustrated about a dry spell in relation to sex, just remember this LR. A lack of sex isn't going to kill anyone, and nothing lasts forever.
__________________