HOHOHO bitches, Jeffy here with a special, all inclusive, non-denominational holiday message from RSD.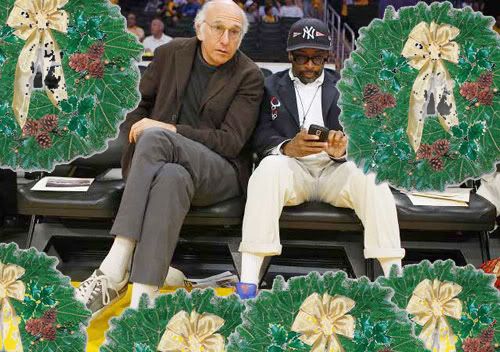 Today is a magical day for a couple of reasons. First off, it marks the beginning of my TAKEOVER of the front page of RSD Nation. For the next couple of weeks, I will be blitzing the page with some new videos and articles. Why am I doing this? Well, it is quite simple: this gives the other instructors a bit of time off to be with their loved ones during the holidays. Since I am a loser with no friends and who nobody loves this is perfect for me. SO GET READY.
Secondly, today we are kicking off the RSD Holiday Special, which is your opportunity to ensure that your new year is an utterly ridiculous carnival of sexual abundance, the kind typically only enjoyed by BILLY BADASSES.
What we're talking about here is a two-week sale on all of our DVD programs, which we are offering to you at deeply discounted rates. We're talking the ENTIRE CURRICULUM at 30-60% off. This is your chance to fill out your RSD library for a fraction of the everyday price. Invite Tim the Flawless Natural home with you for a fireside cup of eggnog. Sing ye olde time Christmas carols with Ozzie. Pretend you are Canadian with Tyler. Do something else with another guy from RSD.
Of course, there's MORE... in addition to the discounts, we are also bundling in some super rad bonuses for those who take advantage of this limited time holiday offer; bonuses that will literally catapult your savings in to the THOUSANDS of dollars. Cool shit, check it out. No point in going into everything here, click through to the main page to learn more:
www.rsdholidayspecial.com
While I'm playing Santa up in this allow me to reveal the vid of Gandi, Evil Stifler and I beasting at SantCon 2010 here in SF:
"DURRRRRRRRR"
Yeah, that's my opener.
"YOU BEAST"
Anyways, San Francisco Januaries are pretty miserable, so the entire Beastmode Gang and I decided to GTFO for the month and rent a mansion with a hot tub in Lake Tahoe. We will have a variety of very flattering women's bathing suits on hand, purchased from the real Chinese store on Mission street. Snowboarding all week, then beasting on the weekends.
Decided to throw some bootcamps up on the schedule while we are up there, hey might as well have some students along for the beastride in a winter wonderland of pussy. Specifically these bootcamps will be held on the 7-9th and 14-16th of January. We will hit up the casinos, bars as well as parties. Rock and fucking roll, Stifler knows his way around the lake quite well so we will be plugged in to the parties. We're talking the whole Beastmode crew: HERBAL FROM THE GAME, CHRISTOPHE, MINOTAUR, EVIL STIFLER, MANWHORE, ANDROID, ETC ET AL
The 16th is my 35th birthday as well, so shit is guaranteed to get super weird.
Hhhhheeeeeenywaysss. This is just the tip of the iceberg... get ready for the motherfucking real over the next couple of weeks.
Jeffy World 2011
let's enjoy life
Ready To Master Your Dating Life?