Good day ladies and gentlemen. Had a bit of a setback with my video upload last night so guess I'm stepping on Tyler's posting day. RUH-ROH
Anyway, just got back from Edmonton where I had my first experience hooking up with twins, which was... interesting. These chicks actually CAME BACK to the bar to retrieve me after they had left, while I was in the middle of debriefing the students out on the street in front the club. So in the interest of showing the students what was possible, I pulled them back to their hotel. Judging by their facial expressions as I got into the backseat of the cab between the two genetically identical women, I believe expanded their horizons a bit. ha ha.
Anyway, here's my upcoming bootcamp schedule. Lots of Canada time with my friend and confidante Julien. Here we come...
July 26-28: San Francisco
August 6-8: Las Vegas World Summit
August 16-18: San Francisco
August 29-31: Vancouver, BC (with JULIEN)
Sep 5-7: Calgary (with JULIEN)
Sep 12-14: Toronto (with JULIEN)
Sep 20-22: San Francisco
Sep 26-28: Los Angeles
Oct 3-5: Salt Lake City
www.rsdfreetour.com
/
www.rsdbootcamp.com
We have a 3 person team that handles ALL of your questions about RSD events-- call them any time to talk game or ask any questions you want!
NORTH AMERICA (Toll Free): +1 (888) 546 7286
EUROPE: +44 (0) 2079 934 034
AUSTRALIA: +61 280 155 522
ASIA: +81345789305
<>==========================================<>
So today's video is on the topic of cultivating RESILIENCE. While there isn't an exact definition of this characteristic from a science standpoint, the best one I've heard describes it as "the ability to modulate and constructively harness the stress response."
This differs from MOTIVATION, another concept I did a video about not too long ago, in that it is more of a long-term thing, which determines how you will deal with the inevitable setbacks you're going to encounter as you go out and try to learn pickup.
Some people will break, while others will soldier on in the face of this adversity and eventually break through their plateaus. Only to do it all over again, lol... but that's life.
It's a long one, so grab your popcorn, or your gluten free kombucha, or whatever the fuck you cuddle up with on the couch, and let's get to it:
These are some actual practical things that anybody can do to increase their level of resilience and by extension their chance of succeeding and achieving a level of mastery in the game.
By the way, the shirt I'm wearing in the video is of course a Heart of Beast shirt, it's actually our best seller, CRACK.
Personally, I LOVE CRACK. Crack kills.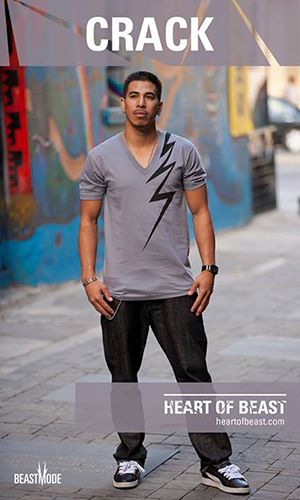 You can get yours here:
Heart of Beast
<>==========================================<>
EXTERNAL RESOURCE OF THE WEEK:
Thought I'd join in on this bidness since all the other cool kids seem to be doing it... in the video I mentioned Canadian astronaut Chris Hadfield who posts videos from the International Space Station. This guy is a fuckin cool motherfucker indeed.
Can you imagine this guy's game? "Hey let's go back to my room so I can show you my videos from outer space. Yeah, I'm an astronaut, no big deal..." lol. He's probably married but still... ASTRONAUT GAME.
Anyway, his channel is full of interesting shit, here's a cover he did of the David Bowie song "Space Oddity":
So cool.
Anyway, cheers cunts, I'll see you in two weeks.
-j
<>==========================================<>
Twitter:
www.twitter.com/JeffreyLAllenIX
Facebook:
www.facebook.com/RSDJeffy
www.facebook.com/HeartofBeast
Youtube:
www.youtube.com/RSDJeffy
www.youtube.com/JeffyFreeTour
<>==========================================<>
Ready To Master Your Dating Life?