Frequently, I'll get emails from guys who have signed up for a Real Social Dynamics Bootcamp asking me what they can do to prepare for their upcoming experience. They want to know if there are any specific things they can do in order to prime themselves to get the maximum value out of the program.
Invariably, I tell these guys the same thing, and it has nothing to do with approaching women.
I tell them to get their ass in the gym and prepare for the program like it's an Olympic event.
Now a lot of people, when I tell them this, are confused. "But Jeff," they ask, "what does that have to do with picking up girls?"
In and of itself, nothing. But the fact is, a Real Social Dynamics Bootcamp is designed to be one of the most intense learning experiences in the world, and as such places serious demands on your physical, mental and emotional capacities.
I tell people to train for it like an Olympic event because THAT'S PRECISELY WHAT I WILL BE DOING.
I keep myself fit. That means daily exercises, spanning a broad spectrum of activities.
One such activity is the practice of hatha yoga to develop flexibility and body awareness. I've recently started getting into this, and it's been very helpful. I've been studying it for a while now, attending class and also doing a lot of reading. In doing so, the other day I came across an interesting bit which was used to describe the process of learning, which I find has application in the realm of social dynamics.
The book described something called "The Ten Bull Pictures," an ancient Buddhist parable that illustrates the stages of awakening to hidden potential. The story uses a series of pictures to tell the story of a student seeking, finding, and integrating knowledge of the self. The images use a bull as a symbol of this knowledge. The bull itself eventually disappears but the knowledge remains and becomes a part of the individual. In this article, I'd like to share this parable with you and examine how it can be interpreted in terms of this journey towards success with women.
1. The first picture is "Searching for the Bull." First, one learns that game exists. This is the realization that we are wholly responsible for our results, the realization that you don't have to accept a sub-par dating life just because you aren't six-foot-five with Brad Pitt looks. In other words, you discover that, despite how things might seem, it is not an objective world that is keeping us down, but rather our self-deceiving minds.
2. The second picture shows the herder "Discovering the Footprints of the Bull." In this second stage, you know that "game" exists, and begin consciously seeking it out: reading about it on the internet, studying DVD programs, etc. By this process you begin to gain "head knowledge" of game functions.
With the aid of things like RSD programs and by the means of study, you come to understand a few things. At this point a key realization takes place: you begin to realize that the objective world is merely a reflection of the self, as opposed to the other way around.
For me, in the early days this epiphany came when I read some of Tyler's posts, which led me to believe that "attitude determines what you can get away with." This was a bit of a crude, surface level analysis or way of arriving at the realization that we craft our own reality, tinged with pessimism ("get away with"?) but at the time it was a huge turning point for me.
Still, I was largely unable to distinguish amidst the whirlwind of pickup theory out there what was good from what sucked.
3. The third picture is entitled "Seeing the Bull." This is a major point. Up until now, the student has had a lot of "book learning" but really hasn't been able to translate it to the field. It is at this stage that he goes out, experiments around, and finally experiences the "body knowledge" of game.
He starts to realize that this game is not about LOGIC, but rather is all about EMOTIONS. He starts to understand what good game "feels like" when he's in the field. He starts to understand what is meant by "getting into state."
This is the first "twitch" of activation. It is here that he experiences the pure state of energy flow that I like to call "the Nimbus."
"The boy finds the way by the sound he hears;
he sees thereby into the origin of things, and all his senses are in harmonious order.
In all his activities, it is manifestly present. It is like the salt in water and the glue in color. [It is there though not distinguishable as an individual entity.]
When the eye is properly directed, he will find that it is no other than himself."
4. The fourth picture depicts the oxherder "Catching the Bull." Using conscious control, it is now possible to regulate in rough fashion, the power of the nimbus.
See, the nimbus is the true realization of the phrase, "I don't care what anybody thinks of me." When I see a guy hit that state for the first time, it's obvious, because I will come around the corner and see him jumping and thrashing about like a psychopath. I'll laugh and say to myself, "Yup... he's got it."
The thing is, they don't know how to use the power yet. They are simply running around like a bull in a china shop, smashing things up. Sure, they are having a great time while doing it, and for a lot of guys, just the idea that game can actually be FUN (as opposed to some ball-wracking referendum on your worth as a human being) is an epiphany in and of itself. But they're not getting the girls, because they're just going in there like a sledgehammer now.
Again, while this is a monumental step, it is no time to rest. You have to work even harder at this point to continue onwards and upwards.
"With the energy of his whole being, the boy has at last taken hold of the ox: But how wild his will, how ungovernable his power!
 At times he struts up a plateau,
 When lo! he is lost again in a misty unpenetrable mountain-pass."
5. The fifth picture is "Taming the Bull." This is the stage where you start to bring in FINESSE. Through a conscious process of discipline, you bring the power of the nimbus under control. You don't care what they think. Great. Now, start to become aware of how you are making them FEEL. Bring the power of the nimbus to bear on THAT, using it to direct the energy of the interactions like a virtuoso concert pianist, and you are on the path to mastery. Again, it is in this stage that functional regulation of your game becomes refined. It is here that you develop what is commonly referred to as "calibration."
6. "Riding the Bull Home" One can now activate the skills at will, without having to think much about it. You just roll to the club and GO. This is the beginning of "game clairvoyance." This term refers to the ability of the awakened mind of the accomplished "pick up artist" to anticipate an action and use the most efficient method, tactic, or strategy to accomplish it.
Only consistent practice creates this type of phenomenon, a feeling of "knowing" what to do. Some have referred to this as "unconscious competence."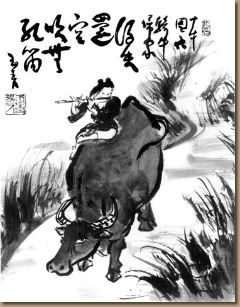 "Riding on the animal, he leisurely wends his way home:
 Enveloped in the evening mist, how tunefully the flute vanishes away!
 Singing a ditty, beating time, his heart is filled with a joy indescribable!
 That he is now one of those who know, need it be told?"
7. "The Bull Transcended." I'd actually call this one "the GAME transcended." The "skill set," as it were, now automatically activates whenever needed and exactly as needed - no more no less. This is full game clairvoyance.
I've met many "naturals" over the course of my career, and an interesting thing I've noticed about them is that, when questioned about game, they often get a puzzled look on their face, and are unable to articulate what exactly it is they do in any meaningful way. It's as if they just can't see what the big deal is.
"Just be cool," they'll say.
I now realize that this is because they have transcended the game in the manner described here. Definitely an admirable way to live, and a remarkable achievement for anybody who reaches this step. But there are three more pictures remaining...
8. The next picture features "Both Bull and Self Transcended." Integration. Rest. Connection. Many will never reach this stage. This is what Tyler's getting at in the Blueprint when he talks about "moving from a place of ego to a place of authenticity and self-esteem."
Here, you are no longer concerned with "being a bad ass pick up artist" or impressing others with your feats of skill. You receive no ego validation from your success.
It simply is what it is.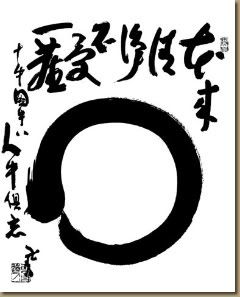 Many practitioners will, at this point, take a step away from the game for a bit. They might even feel a bit of disillusionment. This is where you'll see odd stuff like top guys going celibate for a while, "just to mix things up a bit." Of course, this often leaves their buddies scratching their heads and thinking they've gone full insane. Or maybe they settle down with one girl for a while.
Truth is, a rest period is often the germination of the seed of something new. A renewed vigor for the game, or even a completely different endeavor sprouting out of the old. Again, this is the stage where everything you've experienced and learned becomes fully integrated.
Remember that rest is an essential part of the growth process. If you feel yourself arriving at this stage, embrace it and let it run its course. You've certainly earned it, and it's when growth happens.
9. The ninth picture: "Returning to the Source." The knowledge is now consolidated, and the circuitry unlocked.
10. Finally, we see the herder "In the World with Knowledge Integrated."
At the end of every Bootcamp, I tell the student: "You're on our meme tree now, bitch... go forth and spread the word." And that is the ultimate aim of Real Social Dynamics: not to create a legion of followers, but to do our own small part in transforming the world, snapping as many people as possible out of the spectator mindset characteristic of "the unthinking masses."
We are simply the facilitators. The catalysts. We share our experiences so that those who learn from them can go on to make their own myths, and in turn inspire the next generation.
"The cycle begins again, each time more exquisite, each time more arduous. But we know the process and the way."
Ready To Master Your Dating Life?