Greetings, homosexuals. Jeffrey here cruising along in a tin can at an altitude of thirty six thousand feet next to an obese person; what better time to compose yet another lovely missive for the readership of RSD Nation?
Just wrapped a glorious 10 student bootcamp in New York City with Owen, Brad and Todd, now headed home for a brief respite before sauntering out once more for a sold out program in Toronto, then back to Cali to run another with Owen in San Diego (two spots left!) and then back up to the great white north for a Calgary program, also sold out. From there, I got these dates up on the schedule:
November 2-4: San Francisco
November 9-11: San Francisco
November 15-17: Los Angeles
November 22-24: Seattle
November 29-Dec2: Vancouver
December 6-8: Las Vegas (w/ Tyler)
December 28-30: San Francisco
January 3-5: Los Angeles
January 10-12: Atlanta
January 18-20: San Francisco
January 24-26: Austin
February 1-2: San Francisco
So anyway, for this week's article I was going to record a video about PIMP GAME, but I didn't get around to it before I had to fly out for NYC, mostly due to my rigorous schedule of meaningless sex.
It's funny because it's true.
But yeah, no video means no article right? Wrong... I have a fairly large backlog of video from my travels last year that I never got around to editing, so I dug into the archives to see what I could see. Most of what I found was relatively uninspiring to me, so I was all like "FUK DIS SHIT." However, I did uncover a short blog I shot with Alex last November in Sydney that kind of grabbed me by the booboo. In it, I discuss a fairly common question posited by newbies who come into the community having read "The Game."
These guys come in with an idea that it's all about canned material and so forth and are then faced with this esoteric "nu-RSD" (which isn't so new at this point really but wevs) stuff and are a bit taken aback. They come onto the forum, ask about tactics, and are ripped a new anus hole by the regular users.
"But wait," they plead, "Tyler and Jeffy learned game with routines back in the day! That's how they got good.... doesn't it make sense that i should start off with them as well, like training wheels? Herpity derpity dee!"
So yes, in this short video, I address these concerns.... check it:
So there you have it. Nothing really super earth shattering, I wanted to record something that I could post in threads when this comes up in the future; a sort of "video macro" if you will.
However, that's not the real reason that I wanted to post this video up.
See, when I watched the video, i was struck by a couple things: number one, how bizarre my haircut looks, and number two (hurr durr NUMBER TWO), how goddamn FAT and UNHEALTHY I appear.
This video was shot at the extreme tail end of my World Hotseat Tour last year, and things had gotten a bit out of hand. Looking at it now, it seems glaringly obvious that this haircut was bizarre to the point of being DETRIMENTAL. Hell, they wouldn't even let me into the bar in Perth, citing a "no mullet/no rattail policy" designed to keep bogans out. (Take note: while this appearance didn't affect my game with girls so much, it certainly affected my DOOR GAME)
At the time however, I really didn't notice... the thing is, if you're not on top of your shit with CONSISTENT HABITS, things can creep sideways slowly and you won't even be aware that you're slipping until it's too late.
Next thing you know, you look up and you're some fat pasty with a dead rodent attached to your head.
So after i got home from AusFAILia, I trimmed the mullet down to something resembling a human's hair, and resolved to get back in fighting form. I spent the next eight months fine tuning my diet and gym habits, creating a schedule and sticking to it religously, while of course also having massive massive amounts of random sex. Yup. Oh, and laying out in the sun regularly as well. I said in the video "we will see what happens," and this is what happened: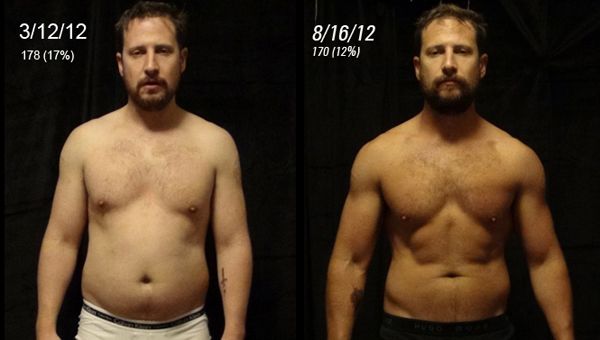 Now, for those of you who have been following RSD for some time, you may recall a similar photograph being posted back in 2006, when I did the original "Summer of Ripped Abs."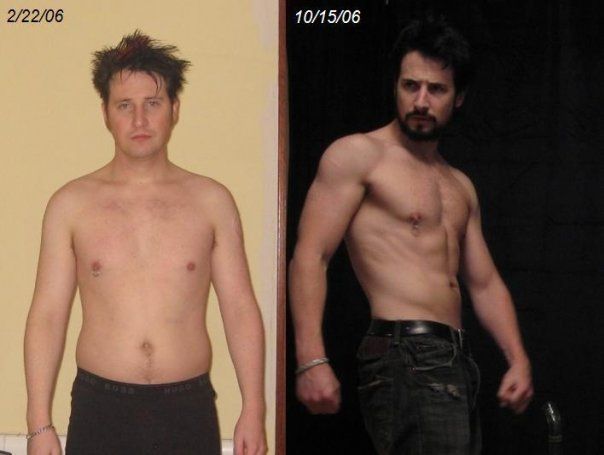 And you may be asking yourself, "DAYYUM SON WTF HAPPENED?"
What happened was: the methods I employed to get in shape back in the day were simply not sustainable LONG TERM.
See, since that original Summer of Ripped Abs, I've had several "yo-yo" cycles where I've slipped and gotten chubby then "fixed" it again. The thing that sucks about this is, every time you get fat, it becomes harder to get it off and easier to get fat again. Look up something called "adipose hyperplasia"... basically when you get fat, your fat cells multiply. When you lose it, those cells decrease in size, but remain present in the body... they're there to stay, and ready to plump up at a moment's notice.
Scary stuff. Hell, it even SOUNDS scary. ADIPOSE HYPERPLASIA, BITCHES.
So this time around, i took a hard look at all the variables involved and saw where I slipped up in the previous cycles.
First off, I noticed that I had injured myself several times while lifting weights. Lower back, shoulders, knee, etc etc. Each time one of these injuries occured, I was forced out of the gym for months, causing me to slip back into fat town.
I used to go really really hard in the gym... like five days a week lifting with elaborate muscle splits. After several months, the inevitable injury would occur and boom, I'm set back and end up WORSE than before. So this time, I decided to dial the volume back hard. I do a modified version of Jim Wendler's 5/3/1 program of progressive loading where I go TWO days a week. That's it. Squats and bench one week, Deads and overhead press the following week, repeat. Mild assistance exercises. If I'm feeling run down, I'll omit the assitance shit. If anything feels weird while I'm lifting... not even painful, mind you, just WEIRD... I'm DONE for the day, I just leave. I've had too many instances where I felt some twinge and wrote it off as nothing and powered through the workout, only to wake up the next day FUCKED. I do cardio six days week (3 steady state sessions, 3 HIIT sessions) and abs six days a week. This might seem like a lot of cardio and not enough lifting, and that's what I thought too when I looked at the program, but honestly I think most guys could use more cardio. And this also allows for the inevitable weeks here and there where I'm traveling and skip the gym entirely. In fact, I think these occasional weeks off are great to de-load the central nervous system. The whole point being SUSTAINABILITY.
Now I realize that when I post pics like this, I'm gonna get the inevitable comments from dudes "herp derp you don't even look dat good bro I lift hard durr" and you know what? my response to that is "FUCK YOU." I don't give a shit. I'm thirty six fucking years old, I just want to be healthy, not the goddamned Hulk. That's not my priority and if it's yours that great. I just want to stay uninjured. If I could go back in time and give my younger self advice about the gym it would be "Keep your volume low and your intensity high." Why? because you have to look at the BIG PICTURE, and see what's going to be realistic long term. Slow and steady truly wins the race. As Wendler himself says, "I don't need to be strong tomorrow... I want to be strong when I'm 60."
And for the record, by San Francisco standards, I basically AM the Hulk. lol scrawny nerds all up in this shit, I slap a hipster on the side of the head and break his fuckin neck.
Ok, so then there's the diet. You may recall that back in 2006, part of my regimen involved abstaining from alcohol. Of course, that wasn't going to last. Are you fucking kidding me? Give me a fuckin break... I'm a gastronome, baby. I live in what is possibly the best city in the world for "foodies" (shit I can't believe I just wrote that gah shoot me now) and oenophiles. World of winecraft. Shiiit, I eat out three to five nights a week. And now we have this new trend of mixology all over the place... every new restaurant that opens up isn't just measured on their food, but on the cocktail program as well. Yes, they have to have a special dude who runs a special department in the restaurant that just does cocktails. The bar is set very high (no pun intended). I fuckin love this shit man.
So again, looking at the variables I came to the following conclusion.... I could either up my cardio, which would mean increasing volume and thus increasing likelihood of injury/boredom etc causing me to drop out of my fitness regimen entirely, or I could quit drinking... which, let's face it, AINT GONNA HAPPEN.
We could argue here "yo man just willpower it up man, you're just making excuses blah blah blah." Fair enough, but look... I'm THIRTY SIX FUCKING YEARS OLD, I KNOW MYSELF at this point, and it's simply NOT REALISTIC.
So I found a work around. Brad turned me on to this whole "intermittent fasting" craze and I looked into it... and basically, what I found is that if I followed that program, it gave me enough caloric wiggle room that I could go out to nice restaurants and have some wine with dinner and still keep in shape.
Now, I've sort of hit a plateau where I realize that if I wanted to get a true six pack, I'd have to cut out the booze and shit entirely. But again, I don't give a fuck about that, that's not my goal. I just want to be reasonably lean and strong, and stay uninjured, and still enjoy life while I'm kicking around on this rock.
I mean, who knows, maybe I'll get a wild hair up my ass in a few months and really decide to shred down to <10% bodyfat just for fun. But right now I'm cool with this whole scenario.
The point here being, whatever your goals are, whether it's fitness, finances, or success with women, when you are developing a plan to achieve them, it has to be realistic. You need to be honest with yourself and say, is this something that, knowing how I am, is going to be realistic LONG TERM. Otherwise, you're going to get stuck in these continual "yo yo" cycles which can be quite disheartening and might even cause you to throw in the towel entirely.
Anyway, that's it for this week. I've got some new shit in the pipeline including a video tour of the van and a comprehensive look at books dealing with the topic of PIMP GAME, and I should likely have the next one up next Sunday. But honestly I'm thinking that I might just switch to an every other week model of frontpage posting.
It just seems more sustainable. lol
See you next time.
-j
Ready To Master Your Dating Life?