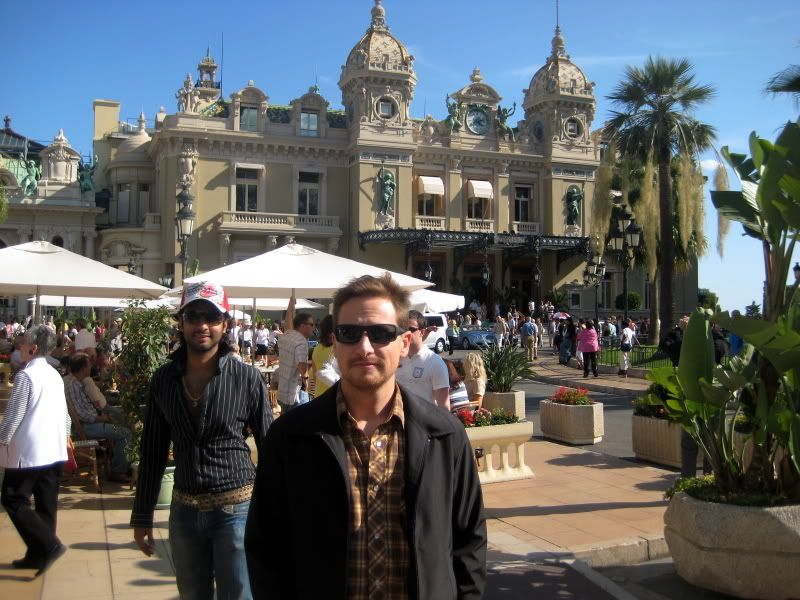 It's six in the morning and I haven't been to sleep yet.
I'm sitting in the airport in Nice, headed home to San Francisco after the Real Social Dynamics 2008 Summer Executive Retreat. It's been a hell of a week: clubbing every night until dawn, lounging around the pool during the day, bouncing around from Cannes to Monaco and back to Cote D'Azur, and eating more cheese than is either necessary or even sane, really.
As the sun rises over the French Riviera and starts to beam in through the floor-to-ceiling windows of the terminal, I take the opportunity to reflect on this latest adventure.
I can't help but shake my head and laugh.
We've been simply terrorizing the clubs out here, every single night. Never mind the fact that not a single one of us, with the exception of Christophe, speaks a lick of French. As you might expect from a gathering of some of the sickest dudes in the game, several of the boys have pulled on the trip, and there have been more makeouts flying around than baguettes at the boulangerie.
Just another week in the life of an international playboy of desire.
Over the course of this past year, I've been all over the damn place. I've scoured the United States, hitting practically every major city from the East coast to the Pacific, dipping through the South and blasting through the North- and Midwest. I've even hit up Alaska and Hawaii. I've exposed myself to the reality of extreme poverty in Africa and in practically the same breath caroused amidst unimaginable wealth and decadence in Las Vegas.
But no matter where I go, I find myself surrounded with like-minded guys who are rocking the party like a ton of bricks and having an AWESOME time... EVERY NIGHT.
That's just the reality.
I'm not telling you this to brag about how cool I am; that's pretty much self-evident.
zOMGWTFLOL
No, I'm telling you this to give you an impression of the lifestyle and the fun that comes along with it once you arrive at the level you want to be at with this whole "success with women" thing.
When you get to that level of competence, getting laid is no longer this insurmountable Herculean feat. In fact, it becomes almost an afterthought. I try to be the least obnoxious about this as I possibly can, but let's face it: it is somewhat inherently obnoxious. When you start to get really good at this stuff, getting laid becomes as easy as going to the kitchen and getting yourself a drink of water.
Okay, maybe that's simplifying things a bit much. Instead, let's say it's like making a sandwich... you do have to sort of put it all together. But the food's in the fridge, guys.
I'm not just talking about myself and the RSD instructor crew here, either. Over the past year, our Bootcamp students have been getting laid at an unprecedented rate, DURING THE PROGRAM.
Personally, I'm 27 for 37. What that means is that over the course of the last 37 programs I've run (roughly a year's worth), there have been 27 instances of the student getting laid on the program. 
Of course, I'm simply the facilitator, the catalyst. All success is ultimately the result of the student's effort. Nonetheless, these numbers can't help but speak to the efficacy of the new "reverse engineered natural" style we've been espousing at RSD for the past couple of years.
Heck, back in February I did a Bootcamp in Seattle, and the student got laid twice on the first night.
I remember it like it was yesterday. The kid stepped to the girl like a man possessed, and within seconds, had isolated her over on a couch and initiated a make out session. A few minutes later, I roll up and he asks me what to do next.
"Take her to the bathroom," I replied. He did just that, and banged her out in one of the stalls.
I know this for a fact, because I was listening. Creeptastic!
Anyway, he comes out and everyone's cheering, it's a total meathead scene. Ridiculous. The young lady goes off to find her friend, and I high five the student. "Awesome man," I say, "great night."
He looks at me with a smile and says, "Yeah... uh... let's go get another."
Hahah this guy!
And we proceeded to do exactly that. He hooked up with another woman shortly thereafter in the same club and went home with her.
The following night, I was determined to get him laid AGAIN. I was like, screw it, we're going for the world record here. And he almost pulled it off; full blown makeout with a hottie deluxe, pulled her out of the club even... until her friends came literally running out after her, screaming, "What about your boyfriend?!"
Oh well.
This guy had his reality shattered. He wasn't an advanced student by any stretch of the imagination. This was a guy who had been actively going out practicing "the game" for only a couple of months, a relative novice who had only read some extremely rudimentary material on the subject. But that weekend changed everything, and he hasn't looked back since.
Kind of a funny story from that second night of program: while he was gaming up the girl he almost pulled, I was sitting at the same table, occupying her friend. Now, I guess my "nimbus" was incredibly on that night, because out of nowhere, the girl I'm talking to jumps up and begins giving me a full-blown lapdance right there in front of God and everybody.
All right
, I'm thinking,
cool
.
*motorboats titties*
This goes on for a bit, then she starts fiddling around with my belt, trying to undo my pants. Now mind you, we are sitting on a couch, literally in the middle of the club, with people milling about in all directions. This isn't some secluded area here.
"What the hell are you doing?" I shout, laughing, looking around to see if anyone else is paying attention to this.
She continues to undo my shizz and says, "DANG... I'ma break you off a piece, boo! I'ma break you off a piece!!"
Incredulous, I yell, "Uh... PEOPLE CAN SEE!"
She's undeterred. She merely pulls her dress down over my crotchal area and says, "Nah, I got you BOO! I got you!"
I'm like, "What? Why... why are you talking like this......... you're asian..."
She's fishing around in my pants for it. She goes, "Put your penis in my vagina daddy!"
You can't make this stuff up.
At this point I just sort of shrug and let her have it. I'm sitting there laughing hysterically as she rides and grinds on top of me.
Now, mind you, this is straight in the middle of a FULL PACKED CLUB. Chodes are walking by with their drinks, and as they glance down, you see them stop and do a double take... you can see it on their face, they're like, "Uhh.... is that dude FUCKING?" But it's so far outside of their reality that they just shake their head and are like, "Nah... can't be," and just continue on their way.
This goes on for a few minutes and then I notice that the bouncers have begun to take interest in us. I don't want to get kicked out while on program, so I throw her off. "ENOUGH!"
She's pissed. "If you don't fuck me, you have to buy me a drink!"
Aaaand these are the kinds of congruence tests we're getting these days.
Back in 2004, things would have gone differently. I would have come into the group and executed my elaborate routine stack designed to generate positive responses on the girl's part, which would give me confidence and in turn give me permission to escalate. Here I've done absolutely NOTHING except amuse myself and draw her into my reality, and she literally jumps on my dick.
It's... PASSIVE DEBAUCHERY.
Thing is, when you master this "flawless natural" system we're rocking these days, it really is that easy.
I've heard the critics. They say it's not realistic, that this system is just a "vague 'feel good' nonsense," that it's not structured enough, that new guys can't learn it.
For those who haven't experienced it first hand, they're like those guys walking by in the club: it is literally so far outside of their reality that they can't even begin to process it.
But the fact of the matter is, guys are getting RESULTS, and FAST. Not just RSD Instructors, but the students we work with, week in and week out. Student alumni crews are sprouting up all over the world with world-class, instructor-caliber skill sets. Their work can be seen all over our "Field Reports" forum, which in my opinion is some of the best content on the entire internet.
Immerse yourself in the RSD ethos. It's a philosophy that focuses on fun and actually having a good time in the field, while simultaneously exploring the razor's edge of modern research into social dynamics.
So welcome to the new RSD Nation. Here you'll find yourself surrounded by guys who are rocking the party like a ton of bricks and having an AWESOME time... EVERY NIGHT.
That's just the reality.
So stop in, stay a while... make yourself a sandwich.
Ready To Master Your Dating Life?