This is it folks... the LAST DAY for you procrastinators to get your hands on the new book "Get Laid or Die Trying" and receive the awesome "FULLY WHORED OUT PACKAGE" including both The Jeffy Show 2 and a SIIIIIIICK ass Q&A audio which I honestly think trumps the video program as it is the most honest and grounded interview I've ever done.
Check out this final preview clip from Jeffy Shore, where I talk about BOLD MOVES and a little concept we like to call "yellow light":
If you still haven't got in on this, here's your last chance to do so... click here and buy the dang thing already:
http://www.amazon.com/gp/product/1451620896/ref=as_li_ss_tl?ie=UTF8&tag=...
Now anyway, let's kind of touch on what I discussed in the video clip.
This shift in mentality from "looking for IOIs" to "CREATING IOIs through escalation and bold moves" has been one of the single most helpful things for my game.
Take, for example, the header picture for this very article, where I'm beasting a hot ass 20 year old into the sunset over my shoulder. I was out at the St. Paddy's Day parade, and this girl saw me and came up asking to "take a picture with my mullet."
Now, the old me might take the picture, then launch into some DHV bullshit, then escalate slowly, if at all.
NEW JEFFY simply says, "Yes but there's a little tax... MULLET TAX" and proceeds to grab a fistful of her hair and forcefully make out with her DURRRRRRR
Well, whaddya know, she responds VERY WELL and reciprocates the kiss. BAM it's on and for the next 45 minutes I basically own her and her friends, saying shit like, "I am going to keep you locked in my bedroom for a month and fuck you continually the entire time... no breaks except for food and basic hygeine, just hard core FUCKING... then I shall release you to the wild" while they stand there in amazement.
Then POOF over the shoulder and up up and away.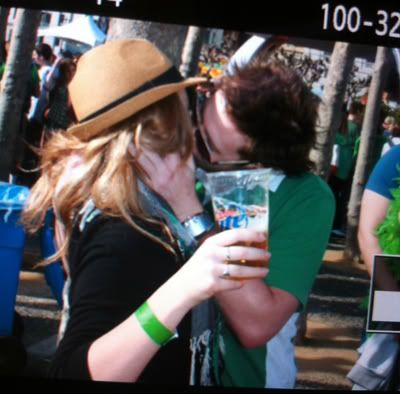 Almost superhuman pull... and we got it all on video. Perhaps you shall view it one day.
Of course, it wasn't always like this. Over the last decade I've had to earn my stripes in the trenches. That means literally tens of thousands of approaches. Looking back though, I wouldn't change a thing.
Now, perched up here at what I really feel is the peak of my achievement and skill level in the game, I can look back and reflect. And I'd say, without a doubt, that the most important contributing factor to the level of success that I'm able to enjoy today has been a mastery of the FUNDAMENTALS.
Not fancy techniques, not elaborate explanations and hand wringing about evolutionary biology. Just a solid grasp, and constant repetition of the fundamental principles and mechanics of the game.
The great coach John Wooden, aka the winningest coach in NCAA history and one of my favorite inspirational figures, was a major proponent of the mastery of fundamentals. He said, "It's the little details that are vital. Little things make big things happen."
The devil of this game is in the details. Guys are always looking for that magical pill that is going to increase their game by 100%. This is why they gravitate towards things like the "ARMAGEDDON GAMBIT" and all this kind of shit.
The thing is, "good game" is really an aggregate of hundreds of LITTLE things that might bump your game up by a FRACTION of a percent.
Little shit like, say, using the girl's name a lot. Or maintaining physical contact with the girl as you're pulling her out of the venue. Or remembering to text her the same night you met, if you didn't pull. Stuff like that. Dotting the i's and crossing the t's, as they say.
The sobering aspect of this for many is that it's not sexy and will invariably take a long time to master.
You know what? OH FUCKING WELL. The time is gonna pass anyway, and you might as well spend it beasting. That time will pass in the blink of a fucking eye, and either you will have learned and grown, or stagnated.
The pain of discipline, or the pain of regret. The choice is yours.
Having said that however, I can't really in good faith call it "the pain" of ANYTHING, as looking back, this has been a crazy journey filled with laughter, tears, lots and lots of sex with hot girls (and some not so hot girls lol) and awesome adventures with friends.
It truly is the journey, not the destination. It's been a hell of a ride, and again... I wouldn't change a thing.
Speaking of hell of a ride, I'm about to wrap up my whirlwind tour of the USA and return to San Francisco. This being my first major book release, I can say it's been somewhat stressful and nerve-wracking, but also very eye opening. It's also great to see the fans of what we're doing here at RSD really come out in droves to support us with this book.
So yeah, this is going to be the LAST TIME I badger you to pick up a copy of the book if you haven't done so already:
http://www.amazon.com/gp/product/1451620896/ref=as_li_ss_tl?ie=UTF8&tag=...
After this, I'll be laying low for a bit and turning the stage back over to the other guys.
Not for too long, however, as there have been whisperings of something big on the horizon. I'm not gonna say what it is quite yet, but it's gonna be BIG.
...
...
(jeffy hotseat)
OH NO HE DINT
;P
Peace,
-j
Ready To Master Your Dating Life?