HEYOOOOOOO.....
Sitting in an airport not much larger than my HOUSE, in Seattle on a day trip to handle some customs issues in preparation for the upcoming free tour, which if you haven't heard about yet you can check out here:
http://www.jeffyfreetour.com
This is a helluva time to have to fly somewhere for HALF A DAY, because I'm completely slammed with work still in preparation for the World Summit next week.
So it's like, edit video and write all day, then meet a girl for bangtown, then sleep for three hours, wake up go to Seattle, come back in the afternoon and immediately resume editing/writing (with short bangtown breaks of course) straight up until I have to fly out to Vegas.
Note that, even in the midst of a massive workload I still find time for gettin laid. Work all day, then go out either for beastmode, date from internet or perhaps even a good old fashioned cherish. I was discussing this with a guy on my monthly teleconference yesterday. He was lamenting the fact that his work was preventing him from getting laid, and I'm like, "Motherfucker, I've been in the damn studio for 10 hours a day for the last three weeks (because I'm a dumbass and I procrastinate) yet I am STILL BANGING 1-3 different girls every single day.
This is kind of where the "pickup pension" really comes into play... the work you put in previously ALLOWS you to take breaks to focus on other areas of your life without having to become some celibate recluse.
Anyway, really wanted to do an in-depth article today about some internal issues I've been struggling with, but the ideas aren't fully formed yet and I don't think I will have the time to work through them and adequately convey them to my satisfaction in this post. So, instead I thought I'd go ahead and give a brief overview of these ideas and the themes for my upcoming presentations at Summit.
Last year, I came into the Summit with a very unusual perspective. I had just broken up with my girlfriend of nearly four years. My attitude was "YEAH BOYYYY, IM FREE YO... IM FUCKIN BEAST MODE YO!"
In actuality, I was "butthurt emotional wreck mode."
I mean yes, I was banging. Intermittently. But it was still too close to the breakup to have any meaningful insight into what I'd learned; I was still processing it.
As a result, I gave what I consider to be, by my own exacting standards, a relatively sub par presentation. Over-reliance on theatrics, permeated by a general sense of overwrought emotional malaise. Watching the in-field videos from last year, I find them somewhat strange... I'm picking up girls, yes, but I'm just generally DEPRESSED and UPSET. It's actually pretty funny. But not in the way I intended
Also, the presentation was almost entirely video with little commentary, which I think was kind of overwhelming to the crowd.
Anyway, let's fast forward from that point. After six months of lackadaisical gaming, something snapped inside me and I was just OVER IT. It was REALLY time to beast. So yeah, utter rampage ensued. Bloodbath. Godzilla mode.
Recently, I sent Tyler a text informing him that I had just engaged in sexual relations with my 50th new girl of the year. His response?
"Congrats on lay 50 that's insane... possibly ACTUALLY insane :)"
I must say I do not disagree with this statement. lol. At times it DOES feel like what I am doing is insane and that I must be nuts for even WANTING to do this kind of volume.
Thing is, I don't do this for me. I do this for SCIENCE. The testing must continue unabated, like GlaDOS in the video game Portal. The science gets done and we make a neat gun for the people who are still alive.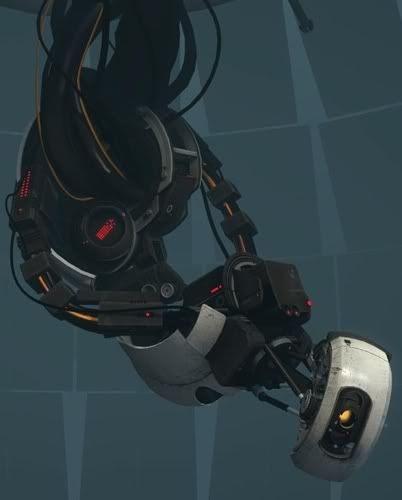 Anyway, that's been my life for the past year, and the presentation is definitely going to reflect that. This is going to be WAAAY more straightforward, practical and most of all, reflective of a guy who's been going literally insane with for the past 6 months, nonstop. These are the major themes I'm going to be touching on this year:
* How increasing your VOLUME is basically the solution to every problem you could conceive of in the game
* BEAST MODE: what it really is and how you can use it to your advantage
* The ultimate paradox: relationship vs. gangster
* Online: OWNING THIS SHIT
* Emotional resiliency and the beauty of the game
Of course, these themes will be fleshed out with TONS of practical tips, commentary, videos and stories from the field. I'm doing two sessions at this year's Summit, so that's eight full hours we're talking about.
Hell, I might even throw in some theatrics and a touch of overwrought emotional malaise, if you're lucky.
Anyway, wanna leave you with another clip from the "Get Laid or Die Trying" book tour (forgive the quality it was recorded in standard def and there were some issues with the post production). With this video, I was just starting to really work out a lot of the ideas that I'm going to be hitting on at Summit, and also I pretend to be a sword-wielding ninja. Enjoy.
See you fags at Summit!
-j
PS: take a look at the JEFFY FREE TOUR page and sign up, if you haven't done so already. This thing is gonna be epic, almost like a mini-Summit:
http://www.jeffyfreetour.com
Ready To Master Your Dating Life?