Word up my little droogies. It's your old pal Jeffy returning from a bit of a hiatus in order to resume the dispensation of The Wisdom of the Elderweird. I also got sick of looking at pictures of DUDES WEARING DIRTY SHIRTS littering the frontpage so I dug into my bag of "random chicks in underwear photoshopped next to the RSD logo" pics and threw that up for you. HUZZAH
I'm sure some of you have been eagerly anticipating my homecoming for some time. I'm also sure there are some amongst you who are like, "Oh fuck, I hate this motherfucker, he looks like a fuckin bird." (this is my actual favorite trolly comment ever left on my Youtube channel).
Anyway, what's been goin on, for those of you who care, was this: after my Hotseat run, I decided to step down and let the other guys have the spotlight for a while. Take a bit of a sabbatical to spend a bit of the Hotseat cash on shit like soda makers and furniture, and more importantly to get my health back in line. I got injured last year and then went traveling, so things had gone sideways a bit. In the midsection mainly.
So, I'm getting back to fighting form now, and ready to resume posting here on the frontpage. Frankly, I could... and SHOULD... have started back up a month or two ago. I've got a shit ton of content in the pipeline, free tour videos as well as vblogs, but I just got caught in a loop of procrastination. Video editing is a monotonous task and I'd been consistently doing new vids up for about 20 weeks straight, so I did need a little break. However, when it was time to start back up, I found it difficult to break out of that inertia. There was always something, some rationalization I'd come up with to put it off.
"Well, you know, the other guys are still promoting their shit, it's not good to muddle the message too much."
"I have to go to the gym. After I check Facebook and read Grubstreet. And ten other blogs about food."
"I will edit the video later. I have to watch Game of Thrones."
Anyway, it doesn't matter now, because I'm back; I have broken out of the cycle of doom and procrastination. Which segues nicely into the subject of today's video. I just spent a week hanging out with my family up in Anchorage, Alaska, and decided to do up a quickie video blog about something that had happened the night before.
I was out with my cousin and my uncle at Humpy's, a local institution. Pretty uneventful night as I was mainly catching up with the guys and drinking heavily. Weren't really any hot chicks in the place, aside from the married waitress who I perfunctorily flirted with, no big deal. But then, a vision of glory walked in the door, sauntered directly past our table, sat down by herself at the bar, and began texting. There was an empty seat next to her. It was literally the perfect logistics for an approach. Then, something happened that may SHOCK you. Check it out:
So you may be asking yourself: "Self, what the fuck is going on here? How can a guy who is a PROFESSIONAL INSTRUCTOR of this stuff, and who has been one for ten fucking years, still make this very basic mistake? And what hope is there for me, a new guy just starting out, if that's the case?"
Well, to me, it comes down to this: game at an advanced level is really a continual RE-LEARNING of the fundamentals. I see it in Tyler, I see it in myself. You realize that perfection is an ideal, one that exists only as a concept and you might get glimpses of from time to time. Hell, you might even go on insane runs where everything is perfect and you're hitting on all cylinders racking shit up like the ultimate boos for weeks at a time, and then out of nowhere you make some bonehead mistake.
It reminds me of when I was at the ballpark a couple weeks back watching the Giants lose to Denver. Over the course of the game San Francisco made some very basic errors that ultimately cost them the game. Stupid shit like dropping an easy pop fly. Sitting in the stands I was incredulous. I screamed at the field, "HOW MUCH DO YOU GET PAID TO PLAY THIS GAME?!!" Yet it happened... a guy getting millions to catch a ball, a guy who is good enough to get to the elite ranks and who practices these action on a daily basis, dropped the fuckin ball. It just goes to show that ultimately there is both a human element and an element of randomness that makes perfection, even if attained, a short-lived phenomenon.
In the game there are a million ways this might manifest... you fail to take action and lose the window like I did at Humpy's. You fumble an easy pull by not paying attention to the logistics. You lose your cool in the endgame when you get LMR. etc etc.
Point is, as long as you are taking action (AND being intelligent about your growth - this means HONESTLY assessing where it is you're fucking up) mistakes like these really don't matter.
Now let me clarify... I don't think it's ever a good idea to get into a headspace where you think it's OKAY TO LOSE... that's just pathetic... but at the same time, you can't be AFRAID to do so.
So you play the game, and when you commit an error, you acknowledge it and commit to strengthen that particular habit or tenet of proper game, you RE-ETCH THAT NEURAL PATHWAY, and move on. The game continues, unabated, until you're in a fuckin hole in the ground. Game on.
Anyway, I'm here in the Hamptons now, believe it or not, and I'm literally sitting alone on the computer like an antisocial douchebag while a full raging barbeque party is happening around me, so I'm gonna call it a day here. Will do up another vblog later this afternoon, and have more content coming out next week. I am actually DRIVING back to San Francisco tomorrow and when it's not my shift to drive I'll be editing up the new vids. Lots of interesting tales to tell so stay tuned.
love,
jeff
PS - I forgot to mention that I have a VERY IMPORTANT ANNOUNCEMENT to make.
After several months of toil and refinement, I am almost ready to release my new line of BEASTMODE T-SHIRTS, just in time for summer.
I never thought I'd be involved in fashion, of all things, but late last year my friend Fortez (who was the guy I burned at the stake in the backyard fifteen years ago in the punk rock hovel in Nine Ball) came to me with the idea. He loved the term Beastmode and wanted to produce some shirts. The basic ideas were:
1. We were going to make shirts that WE WANTED TO WEAR.
2. The shirts would embody the spirit and ideas of Beastmode.
So we went ahead and designed them over several weeks, then screen printed them up. Originally we just wanted to make enough for ourselves and maybe some to hand out to friends, but they came out so good, we decided, fuck it, let's mass produce these things and make them available to the public. We shopped them around and they are now available at select stores in San Francisco.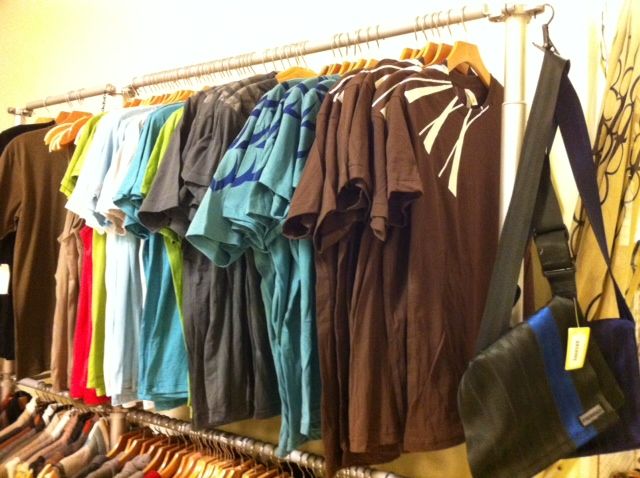 However, we also wanted to make them available to a larger audience, so we put together a website. It's in its final stages of development putting on the last bells and whistles, and the site looks beautiful. It should be up and running in under a month, and you will be able to get them directly from the site.
These weren't cheap to make, especially doing a limited run and what with the meticulous dedication to quality we insisted on (hand printed, best quality American Apparel shirts, exhaustive back and forth with design team), but at the same time we're not doing this to make some killing here. There's not much of a profit margin we're working with, we basically would just like to break even, and the prices reflect that.
In the next few weeks leading up to the launch of the site I'll be releasing photos of the various designs. There are five main designs: Heart to Action, Gladiator, Lion's Beard, Broken Glass, and Take Flight. Below is the Lion's Beard:
What we've found is that the designs are all different, and there's kind of something for everyone... everybody has their own personal favorite. So check back in in the coming weeks to see the rest of the designs. We will also be doing a limited bonus with the launch where if you get a shirt in the first two weeks we will also send you a special video from myself.
Beastmode: individually hand-printed, custom artistic processes and champion designs. Engage.
Ready To Master Your Dating Life?