What's up RSD Nation. Jeffy here, doing my part to keep the front page clear of pictures of men in hotel rooms talking to cameras with dirty shirts on. HEAR ME GUYS? Enough with the stupid video stills of your ugly mugs, people want to see titties, not men gesticulating at Sheratons. Unless it's Brad, then of course everyone wants to see that. But still.
I'm coming at you bright and early from my home in San Francisco on this Sunday morning, the day of the infamous leather BDSM Folsom Street Fair. You may recall the bootcamp success story where we tookt he guy tpo this fair a couple years ago and fucked three girls in the van.
http://www.rsdnation.com/node/165439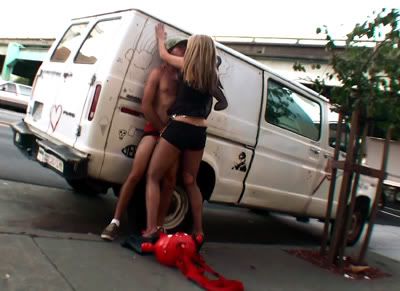 No bootcamp this weekend, but I'll be starting up another North American tour beginning next month... if I'm coming to your city this is your chance to hit up a program with a ten year veteran of the bootcamp game. I'm hitting this shit hard, so check it out:
October 4-7: New York City, NY
October 11-13: Toronto, ON
October 25-27: Calgary, AL
November 22-24: Seattle, WA
November 29 - Dec 1: Denver, CO
January 10-12: Atlanta, GA
January 24-26: Austin, TX
February 7-9: New Orleans, LA
February 21-23: Washington, DC
The van has been pre-parked overnight near the festival gates and I'm about to gather the crew of retards to begin our assault, but first things first... just wanted to post up today's video.
With this vid, I wanted to clear up some misconceptions that I feel might exist with regard to my conduct on the forum.
Often times, people seem to get the impression from my forum posts that I'm just sitting at my keyboard at home, gleefully trolling users out of some innate desire to be a malicious fuckhole. The bare fact of the matter, however, is that I am doing this for their own good.
From time to time you will see me post lengthy, well thought out replies to people's questions with relevant and useful information... when I do this, it's because I get the sense that the user is actually going out and has committed himself to learning this stuff, come hell or high water.
However, the vast majority of questions you see on the forum are straight up ignorant, and I mean that in the sense that they are asking questions that the answers to which would be glaringly obvious to anyone who was going out with regularity... or questions that would not even be RELEVANT to a guy who was going out and hitting up girls consistently.
This is what is meant when I say those three little words: GET MORE GIRLS. Anyway, the video explains it, check it out:
When I say "GET MORE GIRLS" what I am doing is encouraging them to stop RESISTING the idea of this as a lifestyle.
Of course, this can be taken too far... and I'm probably living proof of that lol. My Primary GF just dumped my fuckin ass yesterday, because I'm so enmeshed in this lifestyle it will be impossible to extricate myself from it until I stop doing this job, which seems unlikely at least for the near future.
It pisses me off because I gave the girl everything, and at the end of the day, none of that means shit in the face of the SOCIALLY CONDITIONED NARRATIVE. "But.... but he puts his weener in other girls hoo ha! This is not right"... in SPITE OF the FACT that I was probably the best, most caring "boyfriend" this woman had ever had.
But nope, doesn't matter, she's sick of "waiting around" for me (to do something that she knew would never happen from the beginning) and so I'm doneskis. I predict she will get a nice fat lawyer chode BF that the friends can approve of because he is not scumbag, within two months. Had fun with the bad boy, now time to chode up with the homogenous douche who will be monogamous (of course he will likely cheat on the side if he gets the opportunity but hey as long as it's ON THE DL no harm done I guess)
I guess it goes to show... you can't be half a gangster, nor can you be 87.5 percent of a gangster evidently. lol. Next experiment will be to see if I can get away with being 93.75 percent a gangster.
I talk about this shit all the time with the pimp "cop and blow" stuff... in this lifestyle, you have to be constantly copping new girls, because they are constantly blowing out. When it's the second stringers it's no big deal but of course sometimes the primary blows out and it's a tough one.
This is why the pimps say, "One is too close to none."
Because I have embraced this as a lifestyle hardcore, there will be zero interruption in my sex life, that's for goddamn sure, and hell, I've already got prospects for new GF... somebody who will actually appreciate me, ready to take the spot. Or I could just flow completely free for a while. The choice is mine.
Of course, we could argue that the lifestyle itself is what led to this current issue, but I'm an anomaly. Like I said in the video, for the vast majority of guys this would be like a guy starting lifting weights saying, "But I don't want to be as big as Arnold Schwarzenneger."
Yeah, ok, why don't we see if you can lift the 10lb dumbells first, then cross that bridge when we come to it, mmmmmkay?
So in summation, understand that the only way to become consistently good at cold approach pickup is to view it not as a set of tactics but as a LIFESTYLE that must be embraced. There is no other option.
GET MORE GIRLS.
Now I'm off to do just that at what is possibly the gayest event of the century haha. I'll be back later tonight to check the comments.
-jeffy
PS. GET MORE GIRLS OP.
Ready To Master Your Dating Life?