Woot woot.
So, today I'm writing this from 35,000 feet, as sometimes happens in my line of work. This weekend I'm heading up to Seattle to head up a bootcamp/hotseat combo with my good buddy Tyler. Looks like perfect weather is in store so I'm pretty stoked to beast it up with the local crew. After that, I'm back to San Francisco, then got a couple programs in Los Angeles, then back to SF for the entire month of July, running bootcamps every weekend.
I always tell people that if you're gonna take a bootcamp with me in SF, the summer is without a doubt the best time of year to do it. The daygame is absolutely phenomenal in the park on Sundays, there's nothing like it that I've seen ANYWHERE. If you've been thinking about it, DO IT! The van has brand new carpet as of yesterday and is running like a fucking CHAMPION. We will be more than glad to have you on board. Welcome to love.
Anyways, gonna keep this one relatively short and sweet today. Cranked out a quick video in the Hamptons last week while I was out there on vacation. Interesting side note... I've been slamming the gym and diet for about three months now, and so I decided to use the vacation time as an opportunity to DE-LOAD my nervous system from the 6 days a week stress I'd been exposing it to. This is a pretty standard practice in fitness training. Often times people find it difficult to stay out of the gym during this period, and feel like they're being a pussy or losing ground.
So I ended up taking TWO whole weeks off, and during that time I also basically threw the diet out the fuckin window and ate whatever the fuck I wanted. I mean, I basically do that anyway, but count calories and keep it under my BMR or whatever. But no, I just slammed food down the grill and didn't life a finger for two weeks.
One week off, you might come back stronger. Two weeks off, you might come back weaker. So I was afraid of that. But been hitting it up this week, and aside from some soreness, BAM... no problems whatsoever with the workout ( I do Wendler's 5/3/1 which is progressive loading, pretty basic stuff centered around the big 4 compound lifts and HIIT cardio) and even surpassed previous levels. As far as the diet was concerned, yes I gained some weight back but interestingly enough my BF% stayed the same (13% according to the Tanita... yes I know bioelectrical impedance is imperfect but as long as I see it going up down or staying the same its good enough for me). So I gained some fat but also a fair amount of muscle. Interesting stuff.
Anyways, this isn't bodybuilding dot com, otherwise this would be the part where I post a video of me fucking some girl while wearing a Bert and Ernie mask.
THIS IS RSD NATION. And that means that this is the part where I post a video of me talking about some pickup shit. Today, I take a little question from the ole RSD Mailbag and elucidate the ins and outs of becoming comfortable being the center of attention. Check it:
I think a big take away from this video is the part where I comment that I was a completely different person ten years ago. I think that often gets forgotten, not only by students, but by myself. It's good to remember that from my perspective because ten years from NOW, I will also likely be much different than I am now. Tony Robbins talks about "constant and never-ending improvement" and that is an idea that every instructor here at RSD is dedicated to.
The big takeaway for you, the viewer, is that no matter how socially fucktarded you might be at the moment, identity is a fluid concept and with enough CONCERTED EFFORT, you will eventually get to where you wanna be. Just like with diet and workout however, you have to understand that it's not a "crash course" where you just starve yourself and go ballistic on the treadmill for 12 weeks then lapse back into cheetos land. It has to be a LIFESTYLE change, long term.
When someone asks me, "how long is it going to take for me to achieve success with women," the answer is: THE REST OF YOUR LIFE. No matter how badass you get, no matter how many girls you bang, you're always going to be looking upwards at the next level, unless you're Brad Pitt or Leonardo DiCaprio.
Then again, maybe Leo is reading this shit right now, going "GOD DAMMIT! What's this guy talking about? I SUCK!"
Long story short, no matter what your particular issue is, you have to be smart about your growth and then trust in the process and learn to enjoy the ride, as you will achieve success all along the way.
Anyway it's almost time to shut down the electronic devices so I'm gonna close this one out. Before I do that however, I wanted to unveil the second shirt in the new BEASTMODE line of tees.
Last week I showed you guys Lion's Beard. This week, we have "Gladiator." This shirt was meant to embody the spirit of battle in the arena of love. This is one of my favorites. I really like the color of the shirt and the graphic is both subdued and kind of outlandish at the same time. I like how it's suggestive of armor. Here you can see both the front and back views of the Gladiator Beastmode shirt: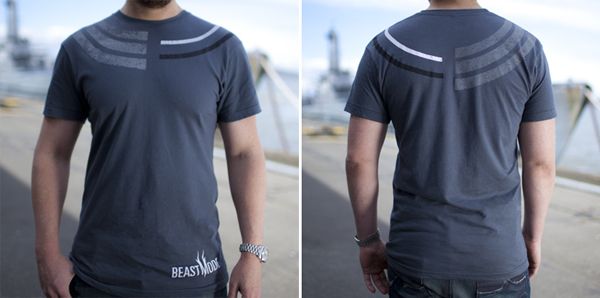 Site is almost complete, and we just wrapped production on the bonus video that we're bundling in for those who pick up a shirt the first week of the launch. In the video, both myself and my business partner discuss the creation of the line in depth, the design process of each shirt, and even how you can use these shirts as a tool in your game when you're out meeting women.
Like I said, the site isn't fully ready yet, but you can check it out and keep up with the countdown to the launch HERE:
www.heartofbeast.com
We're looking to launch around JULY 4th. Every week until then, I'll be showing you a different shirt in the line in this space, so check back next week to see the next shirt!
cheers,
-j