yoyoyo whatup whatup whatup. It's 9 am and again I have been woken up by the construction assholes cutting up the asphalt and repaving it for no apparent reason, as has been happening out front of my house for the past 18 months. So rather than curse them and cry I have opted to crank out today's blog nice and early. THANKS CONSTRUCTION GUISE!!
So anyway, it's gay pride this weekend here in San Francisco, which means that I'll be wrangling the crew of retards and sex addicts, dressing up like assholes and parking the van outside the gates to the festival to go get wasted and fingerbang young girls on the street.
I love me a festival because it's the ultimate in beastmode. You have a crowd larger than any club, comprised of thousands or even hundreds of thousands of people, staggering around wearing ridiculous outfits. It's like a multiple-hour twilight zone (the period at the club right before closing-until the streets are dead) in the daytime. We basically just run around and go "YOU! OMG you are amazing... I LOVE YOU" and hug them in, then go for immediate makeout. If they deny you or there's just no chemistry, you move on.
"YOU! OMG you are amazing! I LOVE YOU" hug, go for immediate makeout.
If she does go for it, then you switch gears and start to work it verbally. And the van is parked conveniently nearby. "Let's go get the vodka... it's in my car."
Another great thing especially about the gay festivals is that there will be guys walking around with their dicks out. Why do we like this... because we love looking at gay dicks? Well, yes, but the real reason is that if they can take their dick out, then we too can deploy dong in public with impunity.
It's basically everything the most hysterical right wing christian commentators rail about against San Francisco and gays, come to life. Except heterosexual. SO SORRY BILL OREILLY
I put out a little music video detailing how we roll out at the festivals a while back, the now-infamous SantaCon video with Evil Stifler. Well today, in honor of this weekend's festival and the mayhem that shall inevitably ensue, I'm giving you guys another little music video from Pride 2010.
Back in 2010, there was a popular flash video game on the internet called "Robot Unicorn Attack," a super fun game where you are a robot unicorn and make your dreams come true. In the game, you hit buttons and run while the song "Always" by 80's dance-pop group Erasure plays on an infinite loop. During the mayhem at Pride, we notice that Erasure is actually performing LIVE, and as we realize this we become extremely excited/agitated.
I ended up fucking three of the girls I met that day (not at the same time), Gary took his dick out multiple times, an underage chick tried to get me to buy her booze, and a giant fat dyke rapping on stage taught us a lesson about cunnilingus.
The important things to take from this video are, first off: the part where I orchestrate the girls makeout. One thing I'm always trying to drill into students on Bootcamp is the importance of PERIPHERAL AWARENESS and REACTION TIME.
Often I'll be in the club talking to the student about something and then suddenly I'll point to my right and say "GO THAT ONE, NOW" and indicate some girl walking by for them to approach. The student will then look around, stammer "whhi... whii... uh.... which which one? WHich one? DERP" He had no idea there was even a girl there, and by the time he gets his bearings and figures out who I'm talking about, the girl is halfway across the club and he now has to run up behind her and he's not as likely to be successful.
You see, I have a constant awareness of where every single hot girl is in the vicinity.
When we are interacting with a girl, 90 percent of the time we are SQUARED UP with her, making STRONG UNWAVERING EYE CONTACT. So strong in fact that the only time we will break it is either A) on purpose as a rapport break or B) to glance around and update our peripheral awareness. Maybe there's a fight about to break out between two guys nearby that will fuck up the emotional flow, so I need to move her away. Maybe her friends are whispering and psspering getting annoyed or talking shit off to the side, so I need to turn and address that real quick. Etc. etc.
Or, maybe I am making out with the girl, and see out of the corner of my eye another girl walking by, so I shoot my arm out like a fuckin rattlesnake, grab her and instruct them to make out with each other.
"FUCK YOU I'M JEFF ALLEN"
*shrugs, looks around innocently*
So yeah, that's a huge, and often overlooked aspect of the game: having a keen peripheral awareness of what's going on in the environment, and then on top of that having a LIGHTNING QUICK REACTION TIME. Train yourself to react and take action immediately. No thought. No hesitation. Just BEAST.
Another thing to note with this video is the complete reckless abandon and "bringing of the party." At no point are we behaving like what Julien would call "permission boys," trying to weasel our way into the girls' fun. We are a goddamn force of fucking nature, just gangstering it up and owning. There is no "rejection." There is only lack of chemistry.
We know that we are doing everything right on OUR END (approaching, communicating intent as a man to a woman, and having fun as opposed to trying to impress), so we don't care about any other external factors. Either she gets with the program or we peace.
Now this is a special edition of JEFFYBLOG because today I'm bringing you TWO videos. I'm sure there are some of you out there who watched the Gaypride one and are like, "Well, this festival game shore seems liek a fun tiem Jeffy, but I live in fucking Walcott, Iowa. We don't have things like that here. In fact, I can barely even go out because there's one club in the entire town and the same cliquey group of people go there every weekend. I can't learn game in this environment because if I go 'beasting' I will burn down the entire club (and thus the entire town) in ten minutes."
I hear this issue quite a bit, and so on my recent cross-country drive I made a stop at the World's Biggest Truck Stop and decided to address this very issue.
So there you go. You may not like the advice, hell you may not even be in a position to take it at this particular moment in time, but the proof is in the pudding. You wanna learn game and you're living in Bumblefuck, USA dot com, your best bet is truly to get the fuck out of there. To hit the road. To vamoose. To TAKE FLIGHT.
Which dovetails nicely with my final little present to you today, the next shirt in the BEASTMODE line of tees, which will be launching July 5th. This one, appropriately named "Take Flight," features a wing graphic, evoking a majestic bird of prey soaring thru the sky, scanning for dinner.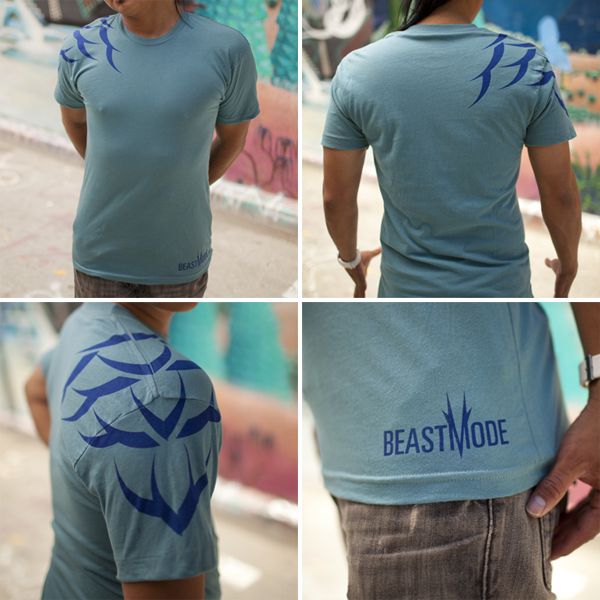 Beastmode is a premier line of high-end, attitude-focused T-shirts. As much art as they are wearables, with the Beastmode shirts we're revolutionizing what a T-shirt can be, using psychology-driven graphic language that draws from symbols of power and passion meant to enhance the wearer. A gladiator's armor. A lion's mane. A raptor's wing. Shattered glass.
Anyway, the site is almost ready and we are prepared to ship worldwide at the lowest cost. For those who pick up a shirt within the first week of launch we have prepared a special bonus video in which we go into detail about the design process and talk about how you can use the shirts as a conversation starter.
I'll unveil another design next week, so check back then. The site launches JULY 5th here:
www.heartofbeast.com
Thanks for reading and I'll see you next week.
HAAAAY!
Ready To Master Your Dating Life?