Hi, I'm Jeff. I'm cool. Be like me.*
Well, the San Francisco Giants made it into their second world series in three years last night. When they won in 2010, I was out in the Mission district and a riot basically erupted, with plates being smashed on people's heads, roving gangs beating each other in the streets, people driving their cars into the crowd and a whole hell of a lot of screaming and "ghost riding of the whip."
In other words, I can't wait for this year's riots.
I'm off to Calgary for some northern flavor of ROADHOUSE AND PUSSY, packed bootcamp it should be off the fuckin chain, but hopefully SF won't sweep Detroit and I can be here for the insanity. Here's my Bootcamp schedule for the next couple of months:
November 2-4: San Francisco
November 9-11: San Francisco
November 15-17: Los Angeles
November 22-24: Seattle
November 29-Dec2: Vancouver
December 6-8: Las Vegas (w/ Tyler)
December 28-30: San Francisco
January 3-5: Los Angeles
January 10-12: Atlanta
January 18-20: San Francisco
January 24-26: Austin
February 1-2: San Francisco
I remember in the riots of 2010, after partying for a while I decided to go elsewhere and got in the van. Well, I inadvertently made a left turn directly into the riot on Mission street. There was no turning back, I had to go through the intersection. So we creep the van slowly through the procession, and we get about halfway through the intersection when the crowd NOTICES THE VAN. They swarm all around it, rocking it back and forth attempting to tip it over. PLEASE. This is a 1980 Ford E350 Heavy Duty van, you ain't tipping shit. Then they start pounding on it with their fists... imagine 100 pairs of fists banging on the metal from all sides, it sounded like a continuously pealing thunder... meanwhile I'm in the driver's seat on the public address mic screaming "CHAMPIOOOONNNNNNS!!!!!" and laughing maniacally. The van is impervious to faggotry of all kinds and as such was completely unscathed, it has been hit several times by other vehicles at speed and in each instance the van was not damaged but the other car was DESTROYED rendered undriveable... so go ahead, bang your little paws on it, you're only gonna break your hand lol.
These girls yell, "Can we get up on your car?"
I'm like, "SHURE!! GET ON UP!!! CHAMPIOOONNNNS!!!!" and several of them crawl up the hood and onto the roof, dancing about as I creep down the street... good times:
So while we're on the topic of the van, I thought I'd do up a video tour of the van, to really give people an idea of what makes this insane idea WORK. When we first got the van, it was met with skepticism by almost everyone I knew... including myself. Like, "there's no way in hell a girl is going to get in that thing." There was only one way to find out... TO FUCKING JUST DO IT AND SEE.
Funny thing is, two years deep I've found that some girls absolutely love the van and will even giggle wildly while shrieking the phrase "RAPE VAN VAN!!!!" and clapping their hands in delight at the idea... and other girls WON'T EVEN LOOK AT IT. Like, they will refuse to even LOOK AT IT from thirty meters away, like they think they're gonna get pregnant or something.
The overall lesson here is this: often times, guys get into the game and they have little experience with women and so the SPECULATE and INFER from socially conditioned media and peers that behaving in a masculine dominant polarity is somehow CREEPY and the girls will be "CREEPED OUT" if they are aggressive and escalate etc etc. That's just one example, but it's the most germane to what I'm talking about here.
The fact of the matter is, you have NO FUCKING IDEA what these girls think constitutes "creepy" behavior. Having been up in this shit for ten years I can tell you a little secret: girls want to get fucked. In Juliens recent video he talks about adopting a mindset that every girl is a total cock loving horny nympho who constantly thinks about sex... obviously this is hyperbole, but IT MIGHT AS WELL BE TRUE. You ACT AS THOUGH IT IS TRUE and step to her with that in mind. Half stepper gets half stepper results... which is to say, NO RESULTS. So you step, as opposed to SPECULATING about what she may or may not like, and you FIND OUT FOR REAL.
Of course there are some things that are going to make your communications creepy by default, no matter what you're actually saying or doing; outcome dependence and lack of emotional acuity being foremost among them. But ultimately the girl wants a guy who is present, unattached to the outcome and then gets AGGRESSIVE with her, not in a SCARY way, but in a FUN and COOL way.
So that's kind of the larger self actualization message I wanted to convey with this van tour. Of course, you also get to see what makes the van actually tick, which is pretty cool. I was showing this video to a friend last night and he said, "Don't you think this video kind of demystifies the van?" I don't think so at all... because the thing that makes the van "work" is the love and work we put into it over the years. It's an organic thing, a member of the crew in its own right. Like, nobody can just watch this video, go buy some van and then REPLICATE what we've done. I think someone tried once with a PLAIN RENTAL VAN and it didn't work out so well lol. The fact that the van is covered in all this weird shit takes it from that SCARY level to the FUN and COOL level.
Besides, you could never commit a crime in it. "Can you describe the vehicle?" "Um... yeah... where do i start..." lol
Anyways, here's the tour, it's a nice leisurely 20 minute trip to help you waste time at work:
So yeah, the overarching message here is that if you're currently struggling with cognitive dissonance as you try to adopt new, unfamiliar behaviors, take comfort in knowing that everyone goes through this, it's a necessary step if you want to get better at anything. Trust the process and put one foot in front of the other.
Another thing, you may have noticed I'm wearing a Beastmode shirt in the video. And it's a V neck. So that's the other little announcement: Beastmode V-necks!
So yeah a couple months ago we did a sort of "soft launch" of my little side project, Heart of Beast. I just released it to the RSD Nation community to kind of test and gauge the interest. But my partner Jeremy has always had bigger ideas for the project, so we're embarking on a six month national campaign in mainstream media for our launch to the general public. This is obviously a costly decision and so we decided to do a Kickstarter campaign to get the brand going. Take a second to click over and look at the campaign page here:
Beastmode: Engage
We'll be releasing the v necks early next year, but right now they will only be available thru the kickstarter rewards.
HOWEVER... as a special "thank you" to those of you who supported us during the soft launch, we are letting you in on the new GIRLS line of shirts, which are based on the van stencil.
WHITE GIRLS:
BLACK GIRLS:
OUT OF POCKET: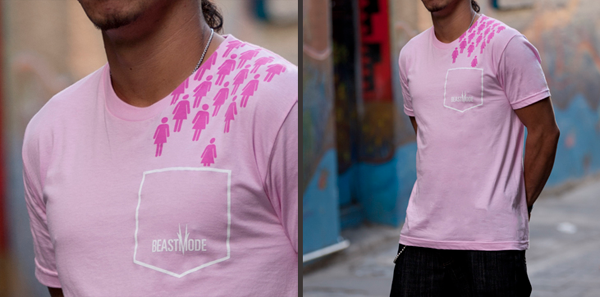 If you already got a shirt, these will be available to you directly through our site, without having to pledge to the kickstarter. Check your email for the link.
Even if you didn't get a shirt, if you get one or more shirts from the kickstarter and shoot an email to me at
jlaix@realsocialdynamic.com
saying you are a member of RSD Nation, we will send you the secret link to the GIRLS shirts page where you can grab one as well. Notice that these shirts aren't even AVAILABLE to the kickstarter contributors, but just to members of RSD Nation.
So that's it for this week. Got some crazy new (and old) content coming down the pipeline... one gem is a video called "TRAINING DAY with Jeffy"... it's from 2007 and a chronicle of me training Alex to be an RSD instructor in New York City. Until then, take it easy.
Cheers,
jeffy
<==========================================================>
PS: if you haven't done so already, take a second to check out our kickstarter page below, which features a new video which is pretty snazzy imo:
Beastmode: Engage
____________________________________
* cr: the pidge
Ready To Master Your Dating Life?