Whatup you old hos, Jeffy back after a bit of time off. Been chilling in San Francisco, working on the van, harvesting the Manchurian Fern Tomatoes out of the backyard. It's a special time of year, summer in San Francisco.
So, here's where I'll be next:
Oct 11-13: San Francisco
Oct 17-19: San Diego (with Tyler)
Oct 25-27: San Francisco
Nov 1-3: San Francisco
Nov 7-9: Phoenix (with Tyler)
www.rsdfreetour.com
/
www.rsdbootcamp.com
We have a 3 person team that handles ALL of your questions about RSD events-- call them any time to talk game or ask any questions you want!
NORTH AMERICA (Toll Free): +1 (888) 546 7286
EUROPE: +44 (0) 2079 934 034
AUSTRALIA: +61 280 155 522
ASIA: +81345789305
<>==========================================<>
So today I've got a mid-length video for you from the Toronto Free Tour where I discuss the importance of tapping in to sexual state FOR REAL, not just as some "tactic."
This is a hurdle for many guys who lack sexual experience... they simply don't feel COMFORTABLE expressing themselves sexually to the girl, and so they will often turn to mechanical "KINO" moves as a surrogate for fun, cool and natural sexual expression. They emulate the characteristics of someone who is comfortable in that modality, and while it's certainly better than doing NOTHING, and is good for getting guys comfortable escalating physically, more often than not they're going to fail to get the girl.
The reason is because the girls aren't idiots... at least in most instances. They can tell that while this guy may be acting confident and escalating, it's a veneer and there's no real DICK behind it. Women are very perceptive of this type of thing, scanning for insincerity of all stripes, at all times. This one however is particularly galling because even if the girl goes along with it in the hopes to get laid, many times the dude will be a fucking pussy back at the house and she will end up "flicking the bean" later on, annoyed that she wasted her time with you.
Anyway, I give a real life example of this from bootcamp, as well as detail how the student turned it around:
A timeless message for the ages.
So yup. Got a lot more videos in the pipeline as well, I'm trying to get ahead several months to give me some breathing room to take care of a lot of RSD projects I've had on the back burner, first and foremost among them being The Program, my comprehensive approach to online game.
Thing is, I had worked out the skeleton and the full intro to the program, and then my hard drive crashed and I lost all of that work. Since then, I haven't really been able to muster the resolve to get to work on it again.
Tyler told me a similar thing happened to him way back in the day when his original manuscript for what was to be "The Blueprint" book was stolen and leaked. He just couldn't get back on the horse and do it. Eventually, that project ended up morphing into the Blueprint Decoded video program which was a huge win for us, but that book never did get finished. This has been a lot of food for thought for me.
The Stephen Pressfield books really delve into this concept of "resistance," and the next video I have in the pipeline takes a look at the idea that the thing you want to do the least is most likely the thing that you NEED to do the MOST.
So anyway, I've got an announcement regarding the Heart of Beast shirts. As of next week, we will be discontinuing the BEASTMODE line.
When we started this clothing line last year, there was a tremendous response from both the RSD community, and beyond. It was really cool when I began seeing them in the wild... at an airport, on the streets of different cities. Over the course of that year, we learned a lot about the shirt game. We also learned from various challenges, developed assets for the business and made great contacts in the industry that will allow us to do more in the future. I'd like to thank everyone who supported Heart of Beast and helped make it a success.
Having said that, we've decided to discontinue the Beastmode line.
There's still some back stock, so we're doing a clearance sale which we are calling the BEASTMODE BLOWOUT: 30% OFF all Beastmode shirts, for a limited time.
www.heartofbeast.com
The Beastmode line was our first... it was abstract, unusual, complicated to print, and we used the most expensive materials. All of this resulted in a bit of a polarizing, not to mention expensive line.
So we decided to do something different. Or DURRferent, if you will.
Introducing PANDURR.
pan·der (pndr)
intr.v. pan·dered, pan·der·ing, pan·ders
1. To act as a go-between or liaison in sexual intrigues; function as a procurer.
2. To cater to the lower tastes and desires of others.
We wanted to go in the opposite direction here. Simple "one banger" designs, easily printed. The designs themselves would have a more broad appeal. Yet at the same time, we wanted to kind of skewer that "ironic hipster thrift store" aesthetic you see, where a guy will have some fake Urban Outfitters "vintage" shirt that says "Camp Hiawatha 1983" on it.
We explored lots of different typography treatments, used humor, and cartoon graphics. Everything is perfectly wrong.
Think of it like we went up irony's asshole and came out the mouth. Not TOO cool, generally annoying, intelligent but willfully ignorant: that's Pandurr.
Also, we wanted these to retail at a much lower price point, so we scoured around until finally finding vendors that would let us bring the final cost of the shirts WAAAYY down from Beastmode prices, while still maintaining quality. Hell, I think these shirts actually fit BETTER than the Beastmode shirts, and they feel great. We also have a few designs specifically for women this time.
Our new mascot is Panduh, kind of an all purpose antihero-slash-comic psychopath.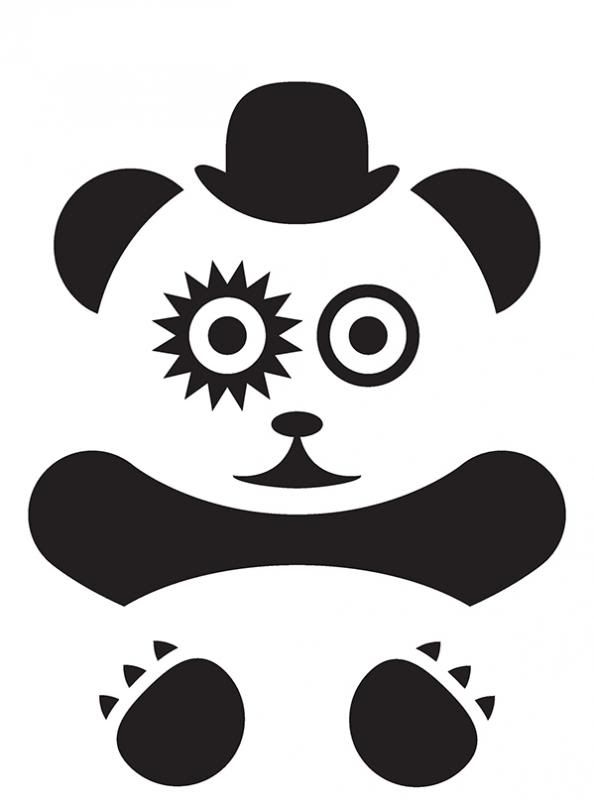 So here's the deal, this week we're doing the Beastmode Blowout, all shirts 30% off... and next week, we launch the new Pandurr line to RSD Nation members only at a discount during a one week presale.
Again, we are launching Pandurr next Tuesday, but you can preview the entire line right now at the link below. Click on the pictures to zoom:
www.heartofbeast.com/pandurr
There are so many designs I just love in the line. My favorites are "You Can't Be Half a Gangster," "Dingaling," "Sketchy," and, of course, "Big Durr." lol.
Anyway, thanks for reading, pick up a Beastmode shirt while they last and get ready for next week's launch of Pandurr. Until then, stay frosty.
-j
<>==========================================<>
Twitter:
www.twitter.com/JeffreyLAllenIX
Facebook:
www.facebook.com/RSDJeffy
www.facebook.com/HeartofBeast
Youtube:
www.youtube.com/RSDJeffy
www.youtube.com/JeffyFreeTour