Yo yo whatup. Just got back from the annual twelve days of Summit, and my true love gave to me... exhaustion and some V.D.
Just kidding. Be sensible kids, and remember to always practice safer sex.
Now it's a brief couple weeks off back home in San Francisco before heading up to Seattle with Tyler and Julien for what should be a debauched time beyond the realms of imagination. Here's my upcoming schedule:
August 16-18: San Francisco
August 29-31: Vancouver, BC (with JULIEN)
Sep 5-7: Atlanta (with TYLER)
Sep 12-14: Toronto (with JULIEN)
Sep 20-22: San Francisco
Sep 26-28: Los Angeles
Oct 3-5: San Francisco
www.rsdfreetour.com
/
www.rsdbootcamp.com
We have a 3 person team that handles ALL of your questions about RSD events-- call them any time to talk game or ask any questions you want!
NORTH AMERICA (Toll Free): +1 (888) 546 7286
EUROPE: +44 (0) 2079 934 034
AUSTRALIA: +61 280 155 522
ASIA: +81345789305
<>==========================================<>
So today's video is straight from the stage of the 2013 RSD World Summit in Las Vegas, NV.
I was the "anchorman" for the summit, as I typically am. The last guy to go. The closer. Tyler opens, I close. We go together like beans and rice. Whatever that means.
For my alloted three hours, I decided to do a two part talk.
The first half, a complete breakdown of the 27 Rules of Pimping as related by one John Dickson, aka Rosebudd, in his book "The American Pimp."
The second half was an exhaustive look at the history, benefits and challenges of multiple long term relationships, the culmination of my decade of inquiry into this "ultimate paradox" of game.
So I'm releasing the 27 Rules of Pimp Game in three parts, and today you get the first.
This video features me mimicking fellatio, insulting Alexander (who yells at me to go fuck myself), and finally reveals my stance on the infamous Las Vegas "Ice Room Lays."
Check it:
Cool. Let me know what you think in the comments, and I'll be back next week with Part 2.
-j
<>==========================================<>
Heart of Beast featured shirt this week is my personal top pick, Jolt. Refuse the socially conditioned narrative. Get a jolt of reality.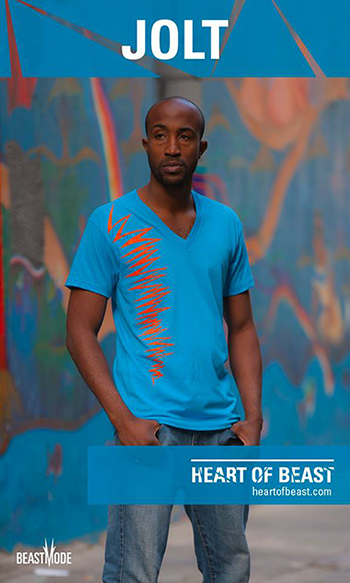 You can get yours here:
Heart of Beast
<>==========================================<>
EXTERNAL RESOURCE OF THE WEEK:
This kid is awesome. My friend saw this video and said, "It's cool how his parents let him get a mohawk."
I was like, "Uh, he probably slapped his parents and said, 'bitch im getting a mohawk. now go get me some cinnamon toast crunch."
<>==========================================<>
Twitter:
www.twitter.com/JeffreyLAllenIX
Facebook:
www.facebook.com/RSDJeffy
www.facebook.com/HeartofBeast
Youtube:
www.youtube.com/RSDJeffy
www.youtube.com/JeffyFreeTour
<>==========================================<>