Controversy!!!
Yes, the blueprint is my favorite pickup/seduction related product, although I like Transformations a lot as well.
There is a concept in the blueprint that I see misinterpreted all the time.
It's STATE.
Guys pay way too much attention to their state. How to always be in a good state. How important it is. How a girl responds to you if you are in state. What to do if you are in a bad state.
Let me tell you now…
It doesn't matter.
That is not exactly true, but it isn't the be all end all that people make it out to be.
I think the proper frame is, just don't be in a BAD state.
What is being "in state?"
It's that feel good feeling, where you feel like you can be yourself, you are outside your head, not thinking of what to say, gold is flowing out of your mouth, and you can get away with whatever you want…
When I see a client on bootcamp hit state for the first time, it's amazing.
I've seen some of the craziest shit, crazier than anything I've ever done in a club, and the client gets away with it because people just realize he's in state, and let it happen. It is really weird, like a glitch in the matrix.
Seriously, one guy ran around the club in Croatia clawing every girl that got within a five foot radius… I was running away hiding because it was so hilarious. And every girl loved him.
Another guy MAN-HANDLED some girl, cavemanning her over his shoulder and high fiving the boyfriend and her brother as he was doing it. –he did not know it was the boyfriend or brother at the time.
I am envious of my glory days hitting state. It just doesn't happen anymore. Seriously, I don't EVER hit state in the night club.
A lot of that has to do with, as you get into those high emotions, you learn how to channel it, as Tyler or Jeffy would say, the hot searing coal as opposed to the raging brushfire energy. It is more like an intensity these days, which is actually more powerful.
Read my article about dancefloor game, and you can gain a better understanding of what I mean when talking about that intensity and how it can overpower the strongest energy a girl will ever throw at you.
One of the easiest ways to hit state is by doing something outside your comfort zone. The main reason it is hard for me to hit state anymore is that there isn't much I haven't already done in the nightclub that would be outside my comfort zone.
Tyler has made me go up to girls with my pants at my ankles, I've had students dare me to approach girls saying "I like wet pussy," or "I want to be a part of your next abortion."
And the proof is in the pudding. I have had SERIOUSLY SHITTY NIGHTS where I pulled majorly hot girls.
I remember one night, in Paris…
Met this AMAZING Parisian girl, mmm… just a stunner, with the pretentiousness that the French embody. We are going back and forth, and it leads to this passionate makeout, right in front of the students.
But what they didn't know, and neither did she, is that I had drunk an unpasteurized smoothie earlier that day and had the worste case of food poisoning ever.
Right after the makeout, I gave the students a high five, and ran directly to the bathroom.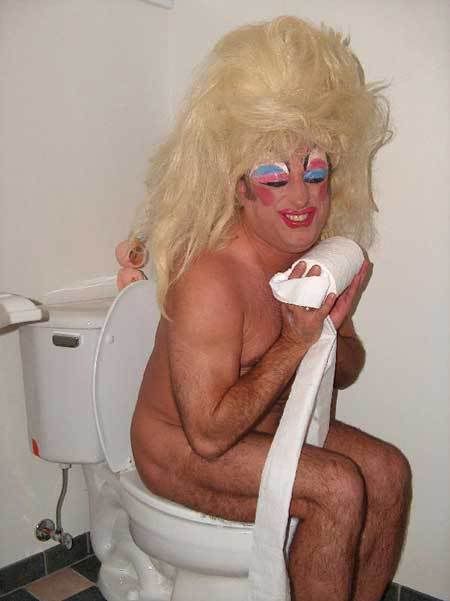 Just recently, a similar experience. I met a beautiful Irish blonde girl in Las Vegas, and the entire time I had to run off to the bathroom every 5-10 minutes because I had such bad nausea. I just sat in isolation for a while trying to regain my composure, then I'd head back over to her and chat her up some more.
Even when I pulled her back to my place, I could barely talk. I texted my friend my dilemma "Dude, this girl WANTS IT! But I can't even stand up straight!"
So I just let the training take over and went for it anyways, and luckily after a while my hormones kicked in, and it ended up being GREAT. Like REALLY GREAT!
Haha, and then 20 minutes later that same feeling of malaise came right back.
So part of this discussion is realizing that YOU CAN BE IN YOUR HEAD AND HAVE SUCCESS. YOU CAN FEEL LIKE SHIT AND HAVE SUCCESS.
Don't use the whole state thing as an excuse. And don't dwell on it if you are in your head or things aren't going your way.
So as I said prior, you don't need to hit state to have a great night out, but the difference between guys who CONSISTENTLY have great nights out and those who don't is not that the guys that are the best are always in a good mood when they go to the club. It is just that when they AREN'T feeling amazing, they know how to get out of that funk.
Here are a couple techniques that I use on program to get clients back into that fun happy feeling if they are all in their head and out of state.
The first step is to get your mind right.
Positive reframe timezzz.
You are in this posh night club, with hot girls all around you, and you are sad.
Boohoo!
My little story of being lame! : (
As someone once said, "Go find a bigger problem."
You could be sitting at home right now.
You could be fighting IN A WAR!
OR you could be DYING OF CANCER!!!
No, you are just being a little pussy, crying in a nightclub because some girl doesn't like you.
Be a man and step up. Realize that your life is actually pretty kickass.
Another one, right out of the blueprint. Unstifling exersices.
I just stick my hands straight above my head and yell as loud as I possibly can for a good 5-10 seconds. Take a look around after that, and you will realize that no one is even turning their head. They are too busy in their own little world worrying about what other people think of them. It makes you realize that you can be that unstifled outgoing guy you want to be in the club.
Anything outside your comfort zone will work. Ozzie used to RUN around the nightclub. I'll make clients approach girls with their shirts off. Or use stupid openers like make them go up to the girl and just start "Meowing."
Anything stupid to get you in that self amusement mode.
Other things that help are screwing with your physiology. The old Alexander~ technique of lime juice in the eye.
One, it is really fucking stupid, and burns like hell, so you get out of your head for that reason, and also, you have no time to be thinking about approaching, how sad you are or whatever because it just hurts so damn bad.
Run up to some girl quick, before you get back into your head and approach!
The girl will usually say something like "Are you crying?" But it doesn't matter, it is fun and playful, and you'll be laughing quickly.
From there, when you do these state pumping exercises, it will get you in that feel good mood, and then you need to make sure to quickly get in set, and build some momentum again, because state is very tenuous when you build it artificially yourself.
Thought experiment.
Think to yourself right now, you could probably get into that electric feel good feeling.
Feel good baby!
But it only lasts for like 2-3 seconds. To get that to stick, you need some reinforcement, which is why it is so important to start talking to girls right away, and stick in there. As they become more receptive, so will you, and things will take off from there.
Remember. Every man is equal when they get into the club. It's just that the best do a certain set of techniques to get them in that feel good state.