Thank God, I went out last night!
In the beginning of the night I was very hesitant about going out, since I knew I was gonna be going solo. I have never gone out by myself before, so I was getting bit gittery. I turned on some Beastie Boys, Fight For Your Right!, to get me in state. The clubs that I went were in walking distance, so I stopped at 7/11 and grabbed myself a 40oz and proceeded to walk to the clubs.
The first stop was the bar I had pretty good success last week. I began chatting girls up right away, starting from the line getting into the bar. Soon as I got into the bar, things started to turn around for the worse... I turned into a total chode... All the girls seemed to be in big groups for some reason, which made it harder for me to approach. I tried to regroup at the bar by taking couple shots, but it was just not working. I was basically going around and around in circles and not opening anything. I had to leave.
The next stop was just right across the street. I hated this place last week (because it was way too packed and loud), but it seemed like a better place to be since I was by myself. I got in the line for the club, and my alcohol just kicked in. I stood in the line for 30 seconds and thought to myself, I just got my buzz and I dont want to wait in line! So, I got out of the line and walked up to the chick with the clip board. She was a petite sexy Asian girl with a cute smile. First thing that came out of my mouth, "SO, how do I get my name on that clipboard?? I am fucking sick of waiting in lines!" and she told me that I should sign up thru myspace... I immediately replied by, "FUCK THAT! thats way too complicated in my current state, BUT YOU ARE REALLY CUTE!" she smiled and continued by telling me that she had a BF. I stared at her thinking WTF??? what does you being cute and having a BF matter? Then I reached into my back pocket and grabbed my notepad and pen and gave it to her. She wrote down her name, email and her cell phone number... and told me to give her a ring next time I wanna come party. She even got me a VIP wrist band and everything. I walked into the club with a big smile on my face and felt like million bucks.
The front of the club was PACKED, I was feeling like a sardine in a tin can. I made my way thru the hip hop section of the club and got to the trance section. AND WHAT DO YOU KNOW! someone was doing the BOX DANCE that Tim was teaching on one of the videos. I could not stop laughing. So, I jumped in the circle and started doing the box dance with them, and completely took over the dance floor with my famous glow stick moves. Then I noticed something grinding on my back, so I turned around to find a cute Asian chick grinding up against me. I turned around and proceeded to dance with her. (I totally should have done the Ozzie move, picking her up and humping her in the air) After few minutes of dancing, she told me that I was a good dancer, so I went in for the kiss. but got shot down... oh well... couple minutes later she dissappeared off into the crowd. It was awesome being center of attention on the dance floor, but my legs were getting tired and I needed to take a break.
I walked over to a closed off section, and looked in... and OH MY! all the supa hotties were all congregated in the small VIP section. And a light went off in my head, 'I HAVE A VIP ACCESS!' so I went in and sat in a long booth right behind the DJ. The view was AMAZING! stripper poles everywhere and the girls were scandalously riding on the poles. and what do I see in the corner of my eyes? SUPA HOTTIE! she was like a 12! beautiful face, long brunette hair, great complexion, and amazing body! My jaws dropped as she walked over and sat right next to me on my left. I played it cool and said whats up... she wasnt very responsive... later I found out that her BF was the DJ. I THOUGHT I got totally shot down so I minded my own business and continued enjoying my view. few minuted later, group of five girls came over and asked me if it was alright if they sat in the booth. They were all 9's and 10's.
Before I knew I was surrounded by hottest chicks in the club. I knew my best shot at this was to neg... but I have never done negs before and I didnt feel comfortable doing it. So I just tilt my head back and pretended that I was resting... making my self look like I have more value.... but deep inside I was just waiting for the right moment.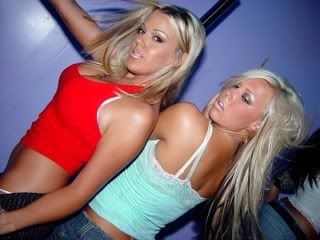 That right moment came in a form of a CHODE. lol. some chode sat on the booth across from us and waved at the chick sitting right next to me with this spirit finger like movement. I busted out laughing... she turns around and looked at me funny for laughing so loud... I pointed back at the dude and told her, "look! he is trying to get your attention, why dont you go say hi to him?" she looks at him and looked back at me and said, "why arent you trying to get my attention?" at that point I was kinda dumb found, because she was this super hot blonde with the cutest face. I didnt know what to say to that, so I just told her that I was taking a break from fucking girls... lol... she thought that was funny... and I was IN! I talked to her for few minutes got her name and met her identical twin sister. Gods have blessed with twin blonde hotties. I forgot everything from watching RSD videos and we were just talking and talking... I really dont even remember what we were talkin about, but we were having a good time. NOW THE FUN PART BEGINS!
So let back track for a sec, there were 5 girls in the beginning, well... now 6 with the twin sister included. I was sitting on the table in the middle of the booth, just so that I could talk to everyone in the group. In the group there was another hot blonde chick, she was definately a 10, but wayyyy too drunk. she grabbed my head pulled me over to her and whispered some of the most amazing words into my ears, "I love giving blowjobs! would you like one?" With a BIG smile I replied, "YES" She got on my lap and started grinding me, it felt really nice. Then she slowly pushed me back on to the table and grinded her booty up to my abs... chest.. and finally to my face. SHE WAS GRINDING HER CROTCH RIGHT ON MY FACE! We were basically doing 69 with our clothes on and EVERYONE was watching us getting it on. I saw few flashes going off people pointing, some dude came over and gave me a high five. It was freaking amazing. I knew I could have stayed there for much longer and practically have her blow me right there, but two words came into my head... Leading Frame. So I grabbed ass, spanked it once and told her that the ride was over and sat her back down next to her friend. I looked up and around the area, and all the girls were just drooling over me. I could feel that I could have taken anyone of those girls home that night, exept for the married one.
After that, I had to take a breather and come back. When I came back, I sat back down right next to that beautiful 12 that didnt give me any attention earlier. As soon as I sat down she asked me, "How tha hell did you get that girl to do that?" I looked back at her and just smiled. From then on the game was on! We talked and talked and talked... she told me that she was studying anthropology, gave me list of books she wanted me to read and documentaries that she wanted me to watch... she was beautiful and smart... and she was into all the history things that I was into... like a dream come tru.... she wouldnt give me her number with her BF 5 feet away from us DJ'ing but she gave me her email address and wanted to know what I thought about the books and documentary. It was kinda funny too, because she pulled out her iPhone to get my number and I just grabbed it and put it right back in the bag... and pulled out my trusty notepad... she commented, "Oh, so is that your little black book with all the girls phone numbers?" before we knew it the lights came on and it was time to go. We got so lost in our conversation that we were just sitting there and the only people left were the employees trying to close. I knew I wasnt getting laid tonight with her BF right there, so I said my goodbyes and came back home.
It was one of the most memorable nights I have had.
-Alchemyst
Ready To Master Your Dating Life?